At a press event kicking off CES 2016, Nvidia has unveiled artificial-intelligence technology that will let cars sense the environment around them and pilot a safe route forward.
Nvidia CEO Jen-Hsun Huang revealed Drive PX 2, an automotive supercomputing platform that processes 24 trillion deep learning operations a second, 10 times the performance of the first-generation Drive PX, now being used by more than 50 companies in the automotive world.
The new Drive PX 2 delivers eight teraflops of processing power and is the size of a lunchbox, in contrast to earlier autonomous-driving technology being used today, which takes up the entire trunk of a mid-sized sedan, Nvidia said.
Huang announced that Volvo will be the first automaker to deploy Drive PX 2.
The Sweden-based automaker will lease 100 XC90 luxury SUVs outfitted with Drive PX 2 technology. The technology will help the vehicles drive autonomously around Volvo's hometown of Gothenburg, and semi-autonomously elsewhere.
Huang noted that a number of automotive companies are already using Nvidia's deep learning technology to power their efforts, getting speedups of 30-40X in training their networks compared with other technology. BMW, Daimler and Ford are among users, along with innovative Japan-based startups like Preferred Networks and ZMP.
Nvidia's end-to-end solution for deep learning starts with Nvidia Digits, a supercomputer that can be used to train digital neural networks by exposing them to data collected during time on the road. On the other end is Drive PX 2, which draws on this training to make inferences to enable the car to progress safely down the road. In the middle is Nvidia DriveWorks, a suite of software tools, libraries and modules that accelerate development and testing of autonomous vehicles.
DriveWorks enables sensor calibration, acquisition of surround data, synchronization, recording and then processing streams of sensor data through a complex pipeline of algorithms running on all of the Drive PX 2's specialized and general-purpose processors.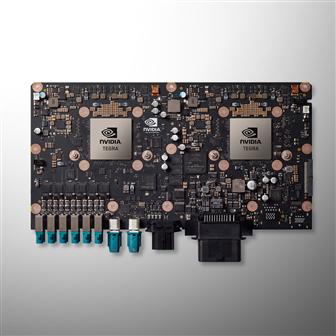 Nvidia Drive PX 2 automotive supercomputing platform
Photo: Company