Pursuing the goal of "The Perfect Pixel" material innovation, Merck has teamed up with local panel makers as a key strategic partner and to provide them with the crucial materials for creating better visual experiences and enjoyment. As global panel industry moves towards higher resolution, high color gamut developments as well as the widespread applications of OLED on intelligent and wearable devices, Merck will showcase a broad range of new materials addressing these requirements and to unveil novel applications of display technology in the future at 2015 Touch Taiwan.
In an interview with DIGITIMES, Dr. John Lee, General Manager of Display Materials Business Unit at Merck Display Technologies, talked about the four major themes that Merck will present at this year's exhibition: High Resolution, High Color Gamut, Next Generation Display, and Beyond Display
Taiwan's LCD panel industry have faced two major challenges since two years ago. One is the rapid expansion of 8.5-gen panel factories in China, and the other is the OLED investments made by Korean panel makers. In order to confront with the huge capital expenditure competitions from the two counties, Taiwan makers need to find new technologies to rival with OLED and set apart from other competitors. Taiwan makers decided to leverage the trend of high resolution panels, in a bid to enhance differentiation and set a new foothold for technology development and market position.
High Resolution Display
In order to support Taiwan's panel makers, Merck has developed PS-VA (polymer stabilized vertical alignment) liquid crystals material with higher light transmission and rapid switching times. With PS-VA materials, 4K2K LCD panels will be able to provide excellent contrast and impressively vivid images with minimal power consumption, further shortening the technical gap between that of OLED panels.
As panel resolution increases, four times of pixels are required to put into the same area, so the number of metal wires that connect pixels is also on the rise. Therefore, it's important to reduce the effects of cross talk that are caused by the increase of wiring density. Merck has acquired AZ Electronic Materials, which is a leading company that specializes in providing high tech materials that enables a high precision manufacturing process for LCD's. Merck's product line is now expanded to include high contrast photoresist that can be used to accurately align the sophisticated wires in lithography process. Also, by using ultralow-K SOG (Spin on Glass) material, light transmission can be effectively increased to improve the yield rate for 4K 2Kpanel manufacturing and cost control.
OLED panels are advantageous in terms of contrast, switching times, thinness, curved form factor, and removing the need of using backlights and color filters. However, the LCD panel makers are also catching up. Now 4K2K LCD TV is becoming thinner like OLED TV and is existing in curved form factor. Taiwan panel makers try to make differentiation with high resolution products has already accounted for 15% market share. With excellent price and performance advantages provided by 4K2K products, Taiwan panel makers have successfully made a paradigm shift and will further drive the significant market growth in the future.
In addition to providing PS-VA liquid crystal materials for large and high resolution panels, Merck also developed new UB-FFS (Ultra-Brightness Fringe Field Switching) materials to address the high resolution, high contrast, and low power consumption requirements for mobile devices. Winning the Invention Award in German and the Gold Medal Award of SID (Society for Information Display), the new material will further boost the development of various mobile devices in the future.
High Color Gamut Display
As for the application of High Color Gamut, Merck provides LED phosphors that can upgrade average panels to high color gamut performance. The OLED materials allows OLED TV to achieve 110% of color saturation and bring forth more beautiful and vivid images to satisfy the viewer's eyes. Moreover, products made with Merck's Quantum Rod material can enhance color saturation up to 130%, while keeping high brightness features. With excellent color experience, it can perfect your display colors and power consumption to open up new display modes in the future.
Merck also excels at OLED materials. The key bottleneck of OLED process is how to accurately align the mask used for large-sized panel with the glass substrate. Merck is one of the few material providers that can offer both vacuum evaporation and inkjet printing technologies for OLED manufacturing. In particular, inkjet method can discharge material onto large glass substrates, in a way to effectively reduce production cost for large size OLED.
Next Generation Display
The third theme focuses on Next-Generation Displays, including Blue Phase and ULH (Uniform Lying Helix) materials. Both of them make use of fast switching times to provide higher light transmission and to perform the calculation of field sequential color algorithm. Also, in conjunction with backlight control, the conventional color filters are no longer needed. In addition to removing the cost of color filter, their major advantages are power efficiency, wide viewing angle, and excellent low color shift. However, it requires to overhaul the current manufacturing process and panel design. It is expected that the application of these materials will be matured in several years.
Beyond Display
Furthermore, Merck will also showcase Organic Electronics (OE) materials for the applications of flexible displays. With the emergence of wearable devices, OE materials will be playing an increasingly important role for this.
The demonstration of Beyond Display is always the most eye-catching for visitors. Liquid Crystal Window (LC Window) is one of the key fields that Merck tries to expand its display technology. By making use of LC materials and working with construction and interior design industries, more intelligent products that are helpful to improve people's living quality can be developed. Merck is now developing second-generation LC Window applications. By effectively simplifying the system, architects and construction companies of green buildings can now have higher degree of design flexibility. LC Window provides a means of controlling the passage of light through the window and limiting the amount of solar energy entering the building. Merck's Innovation Center at the headquarter in Germany has adopted LC Window designs to achieve both the goals of energy-saving and modern exterior looks.
Moreover, Merck applies LC technology to other fields such as dish-shaped antenna receiver. By doing so, the traditional satellite dish antenna that can't be carried around will also become portable. For the headlight design of luxury cars in Europe, LC material can also be used to enable Smart Lighting to enhance driving safety with automatic brightness adjustment when two cars are facing each other. Other applications include naked eyes 3D holography and the transparent monitors that are increasingly used at department stores and hypermarkets.
Merck has established long-term customer relationships with panel makers in Taiwan. With continuing material innovations, Merck has been playing the role of hidden hero to serve the local industry. As display technologies keep evolving, Merck will actively support Taiwan's panel makers, by providing them with the most advanced materials and process technologies. Merck is dedicated to work with Taiwan makers to maintain their competitive edges in the market. Though there are many challenges ahead, the future of Taiwan's panel industry is still optimistic through taking differentiating strategies and driving innovations. Merck will also keep focusing on the development of display materials by investing in technology research and acquisition. With a wide range of products to be showcased, Merck welcomes visitors to witness its latest display technology portfolios at 2015 Touch Taiwan.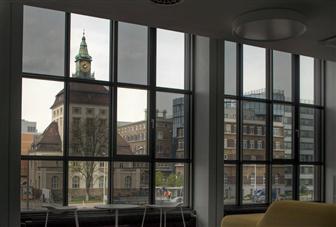 Merck's Innovation Center located at the headquarter in Germany has used LC Window for energy saving and a modern look
DIGITIMES' editorial team was not involved in the creation or production of this content. Companies looking to contribute commercial news or press releases are welcome to contact us.