PowerbyProxi Previews Next Generation Resonant Qi Wireless Charging System
Press release
PowerbyProxi, developer of the world's most advanced and safest wireless power systems, will demonstrate the first Resonant Qi wireless charging system at Computex this week. New functionality offers an advanced approach to wireless charging of smartphone devices, overcoming current limitations like slow charging times, the need for precise placement and the inability to charge multiple devices at once. Resonant Qi remains fully backwards-compatible with existing Qi products, while providing OEMs with a clear path to the benefits offered by resonant technology.
"The Qi standard from the Wireless Power Consortium (WPC) has become the clear front-runner in the wireless charging standards battle, as evidenced by top brands, including Samsung and IKEA as they integrate the technology in their latest products," said Greg Cross, CEO of PowerbyProxi. "We have been instrumental in taking the success of Qi, the most widely deployed standard on the market, and evolving it to offer consumers the benefits and functionality that resonant power provides."
Qi evolution to Resonant
Resonant Qi is an evolution from the current Inductive Qi technology which is integrated into many of the wireless power devices currently available. PowerbyProxi is a major contributor to the development of the Qi standard and is helping to deliver improved performance for consumers with features including:
Faster Charging time - equivalent to wired chargers: PowerbyProxi's new Resonant Qi demo delivers increased power, with 7.5 W receivers, as well as an advanced receiver architecture with the highest charging efficiency for resonant systems (>70%). The combination of higher power and greater efficiency delivers faster charging times over current inductive systems.
Spatial freedom - the ability to place your device anywhere on the charging surface: Current options require precise placement on the charging surface, with devices sometimes failing to charge if not aligned correctly. The Resonant Qi system removes this scenario with an expanded coil design allowing charging in multiple positions and orientations, as well as with multiple devices.
Full backwards compatibility to existing Qi technology: Resonant Qi devices will be fully compatible with all Qi products currently on the market.
Object detection: This is the ability to distinguish between foreign and friendly objects, offering an element of safety. Foreign objects can include spare change or keys which can receive heat from chargers that are not designed with PowerbyProxi's real-time identification technology. This system will identify the device or object placed on the transmitter and determine whether it is safe to supply power.
PowerbyProxi will be located at booth C0324 in the Taiwan World Trade Center building in Hall 1, on the first floor.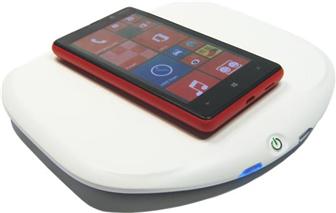 PowerbyProxi previews next generation Resonant Qi wireless charging system
Photo: Company
Contact information:
Alice Chan, Bird PR
alice@birdpr.com
415-740-8174
About PowerbyProxi
PowerbyProxi is a leader in advanced, safe, wireless power solutions for consumer electronics (CE) and industrial markets. Our resonant technologies deliver a better consumer experience with full spatial freedom and multi-device charging, and solve mission-critical problems in demanding, hostile industrial environments. We license technologies and deliver modules to battery and semiconductor suppliers, OEMs/ODMs and system integrators, with proven highly resonant implementations ranging from less than one watt to multiple kilowatts. PowerbyProxi is a venture-backed company spun out of The University of Auckland - an internationally recognized leader in wireless power innovation - and holds a comprehensive portfolio of 300+ patents worldwide. For more information visit: www.powerbyproxi.com.