Chenbro showcases high density storage and datacenter server series
Press release
Chenbro is showcasing four categories of products this year - high density storage solutions, hyperscale datacenter solutions, appliance server solutions, and enterprise edge server and storage solutions - at its booth in the systems exhibition area at booth L0628, Nangang Exhibition Hall 4F. These products demonstrate combinations and applications of Chenbro's professional technological capabilities in mechanics, electronics, software simulation, and system validation.
High density storage solutions are a new line of Chenbro products including 4U 48-bay, 60-bay, 72-bay models with top-load hot-swap hard drive design, differentiating from regular horizontal mounted hard drives to allow maximum storage capacity per space unit. However, the high density design introduces challenges in terms of heat dissipation, vibration, weight reduction, structure strength, and energy saving. Chenbro has been investing in verification equipment, system simulation, and electrical R&D in recent years, which has enabled Chenbro to solve these problems and win business and recognition from leading datacenter suppliers.
Servers for hyperscale datacenters (over 9,000 racks) are very different from enterprise servers in both specifications and appearances. Normally, regular 1U enterprise servers support four 3.5" hot-swap hard drives, EEB (12"x13") mainboard, and RAID data protection. Hyperscale datacenters, on the other hand, demand a lot more hard drives, commonly 12-bay or 16-bay, and mainboards larger than 12"x13". These specification requirements impose new challenges such as sag and bow of the bottom when the chassis depth is increased, heat dissipation difficulty as the air flow path becomes longer, and reduction of installation time due to increased number of hard drives. Chenbro has mature and reliable solutions to help customers resolve these worries. Furthermore, as datacenter servers usually have a lifecycle of 18 months, the quantity demand fluctuates widely and specification requirements change frequently, testing suppliers' abilities to cope with changes and adjustments. Chenbro, with a 32-year history in the mechanical design business, has developed core competence - flexibility and agility enabling it to capture rising opportunities.
Intel CPU performance and multi-core technology are sufficient to most applications, thereby allowing server dimensions to shrink. Eying this trend, Chenbro has launched a series of chassis for special-purpose and entry-level servers. The products feature compact design but still offer adequate computing power and storage capacity required by applications, and on top of that, compelling CP ratio and customization flexibility.
Enterprises remain the target market of servers. However, with cloud computing on the rise, businesses are changing the way they evaluate IT investments. In terms of strategies for its enterprise servers, Chenbro looks to enhance functions that businesses are most concerned about and eliminate designs that are less in use so that companies receive maximum returns for their investments. Furthermore, Chenbro is also joining forces with industry partners to co-develop the best products and integrated solutions for business customers.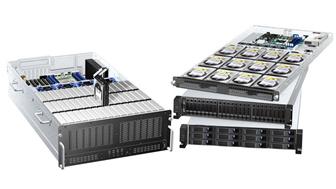 Chenbro high density storage and enterprise edge server product family
Photo: Company