Bi-Directional Video Streaming: Wi-Fi Mirroring between Touch Panel and Phone (Real-time Full HD 1080p), announced by KCodes
Press release
Incorporating KCodes proprietary protocol "USB over IP" with a MediaTek dual-band Wi-Fi platform, an Android Phone is enabled to realize bi-directional mirroring to a Dell 23" Touch Panel, which has a DisplayLink graphics chipset built in.
Under this framework, Touch Panel, taking advantage of its screen size, could largely expand Phone's capacity in display to fully represent the genuine premium quality of Full HD 1080p. Phone, in return, empowers Touch Panel, which is traditionally considered merely a non-intelligent I/O device, to enjoy versatile smart applications brought along by Phone.
KCodes Corporation, specializing in architecture design, SW/HW development and system integration, announces this advanced technology in Computex 2015.
As mobile network infrastructure gets readily widespread, user-friendly interface, especially in applications with high throughput demand, has come into focus in terms of user experience. While Touch Panel and Phone effectively enhance their mutual functionality, this real-time interactive system notably outperforms its counterparts that realize simply uni-directional mirroring.
The bi-directional mirroring technology can be applied in varied user scenarios, such as HD video mirroring and in-store marketing campaigns. For greater use of the touch feedback feature, mobile APPs such as Multi-player games or parent-child interactivities are also recommended.
Employing a Wi-Fi platform that supports up to 192KHz/24bit I2S output, KCodes has realized Wi-Fi audio streaming compatible with AirPlay/DLNA for "HiRes" music streaming by a module-based solution. Moreover, with introduction of an SRC (Sample Rate Converter) chip into the system, audio streaming can be even optimized up to 384KHz/24bit I2S output, allowing the quality music to be best transformed and demonstrated in analog form.
KCodes Corporation was established in 2001. As a world-class SW licenser and HW module provider, KCodes provides customized solutions to Tier-1 brand customers, including Print Server (via USB over IP), SMB/FTP, AirPrint, VoIP, and a variety of Wi-Fi interfaces with feature SW stacks.
For more info: http://www.kcodes.com/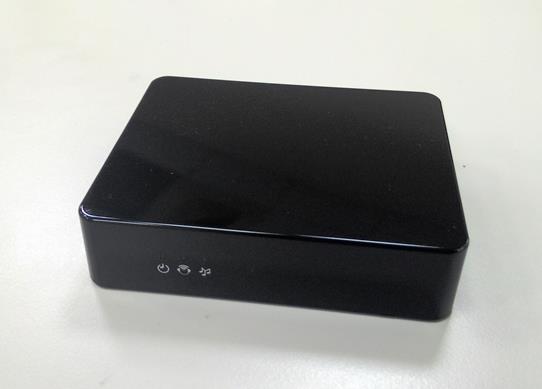 KCodes audio box
Photo: Company