Explore IoE network management solutions with AEWIN
Press release
According to Cisco, the Internet of Everything (IoE) will create US$14.4 trillion in value at stake - the combination of increased revenues and lower costs that is created or will migrate among companies and industries from 2013 to 2022. Since 2013, AEWIN Technologies has expanded product lines with different industrial application specifications to meet the IoE market trend.
IoE applications potentially create new types of lifestyle with more and more convenience, and at the same time IoE increases the security and surveillance requirements in everyday life. In 2015, AEWIN is enhancing products in line with advanced industrial standards to offer a secure platform for IoE applications. There are three major vertical industries in IoE applications: energy, industrial automation and transportation, on which AEWIN's new products focus. AEWIN's new SCB-6010 product series could be integrated with IP surveillance solutions as switch or industrial video recorder. In addition, it is able to manage industrial devices in terms of Serial to Ethernet communication, and even serve as a firewall. SCB-6010 is a DIN-rail type fanless industrial grade networking system with low power consumption Intel Atom Bay Trail processor.
The following is the features of SCB-6010 series:
- DIN-rail type fanless industrial grade networking system
- Power redundancy input from 9 to 48VDC
- 2.5 KV Isolated protection
- Wide temperature support from -40 to 75 degrees C
- More flexible designs
* Easy to use HDD bay, USB, CF card slot
* Mini-PCIe slot for expensive I/O
- Compliant with UL508,C1D2, ATEX and IEC 61850 design for comprehensive industrial applications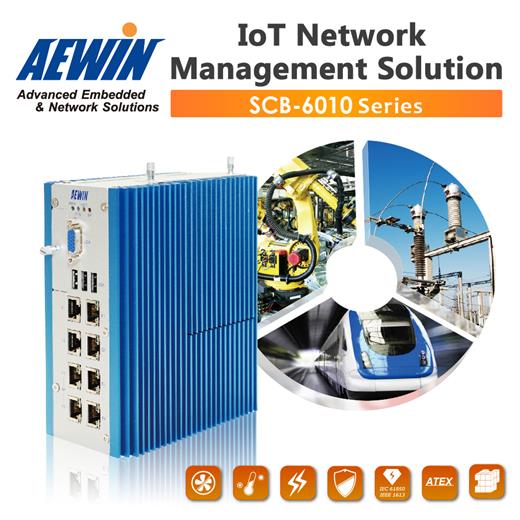 AEWIN's new DIN-rail type fanless industrial grade networking system - SCB-6010
Photo: Company
AEWIN is at Computex 2015 showcasing its latest products and advanced technology in network computing, embedded systems and gaming solutions. AEWIN's booth number is #K0110, first floor, Nangang Exhibition Hall. To get more information please visit AEWIN website: http://www.aewin.com.tw/ or sales@aewin.com.tw.