congatec Presents First Quad-core Intel Pentium Processor with 4K Resolution on Qseven
Press release
congatec AG, a leading technology company for embedded computer modules, single board computers and EDM services, introduces the latest addition to its Qseven family. The conga-QA4 module features the new Intel Pentium and Celeron processors based on 14 nm technology and offers further energy savings as well as increased computing power. The optimized Intel Gen8 graphics with up to 16 GPUs (graphics execution units) and 4K (3840x2160 pixels) resolution results in a significantly improved visual experience.
The conga-QA4 comes in three different processor versions (Intel codename Braswell) for high scalability. These range from the entry-level dual-core Intel Celeron N3050 with 1.6/2.08 GHz to the quad-core Intel Pentium N3700 with 1.6/2.4 GHz, each with a power consumption of 4 watts for standard applications (SDP = Scenario Design Power).
Qseven modules featuring the first Intel Atom processor generation have been in use since 2008. With the introduction of the new conga-QA4, all Qseven applications can now be upgraded to the latest processor technology quickly and easily.
The Qseven module is equipped with up to 8GB dual channel DDR3L memory and up to 64GB eMMC 5.0 for mass storage. The enhanced integrated Intel Gen8 graphics supports DirectX 11.1, OpenGL 4.2 and OpenCL 1.2. With 50 percent lower data rate requirements for high-performance, hardware-accelerated video decoding for H.265/HEVC, compared to the earlier H.264/AVC standard, it becomes possible to stream 4K videos in real time.
Resolutions up to 4K are supported through DisplayPort and HDMI, and up to two independent display interfaces can be connected via 2x 24-bit LVDS. Next to LVDS, the Qseven standard also permits up to 2 eDP (Embedded DisplayPort) interfaces. This version of the conga-QA4 allows the control of three independent 4K displays.
Thanks to the MIPI-CSI2 camera interface standard, Qseven can truly "open your eyes." Using a feature connector conforming to the Qseven SGET 2.0 specification (Addendum), the conga-QA4 can directly support up to two MIPI HD cameras. The main advantage of MIPI-CSI2 lies in the extremely low price of camera modules with a MIPI-CSI2 interface. The availability of standardized hardware and software interfaces also means that there are appropriate drivers for all popular operating systems, which facilitates integration.
All this makes the module an ideal choice for retail, digital signage and also medical applications. But the need for high-performance graphics, outstanding computing power and passive cooling is not limited to these areas. Further applications include, for instance, technical diagnostics based on optical information, all kinds of retail monitoring tasks, security features such as occupancy or collision detection, authentication and access control, person and face recognition, optical measuring and counting, assistance systems (eg pedestrian and traffic sign recognition in motor vehicles), intelligent lighting systems (eg automatic headlamp control) and all kinds of webcam and intercom functions (eg video telephony).
Thanks to native USB 3.0 support the conga-QA4 module provides fast data transmission despite low power draw. A total of six USB 2.0 ports are provided, one of which is executed as USB 3.0 SuperSpeed.
Three PCI Express 2.0 lanes, and two SATA 3.0 ports with up to 6 Gb/s allow fast and flexible system extensions. The Intel I211 Gigabit Ethernet Controller guarantees best software compatibility, while I2C bus, LPC bus for easy integration of legacy I/O interfaces and Intel High Definition Audio with an 8-channel sound card round off the feature set.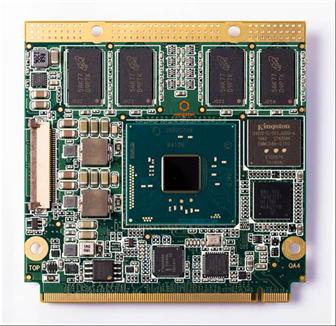 Quad-Core Intel Pentium processor with 4K resolution on Qseven
Photo: Company
About congatec AG
congatec AG has its head office in Deggendorf, Germany and is a leading supplier of industrial computer modules using the standard form factors Qseven, COM Express, XTX and ETX, as well as single board computers and EDM services. congatec's products can be used in a variety of industries and applications, such as industrial automation, medical technology, automotive supplies, aerospace and transportation. Core knowledge and technical know-how includes unique extended BIOS features as well as comprehensive driver and board support packages. Following the design-in phase, customers are given support via extensive product lifecycle management. The company's products are manufactured by specialist service providers in accordance with modern quality standards. Currently congatec has 177 employees and entities in Taiwan, Japan, China, USA, Australia and the Czech Republic. More information is available on our website at www.congatec.com.