First Multi-format DTV Modulator Chip Makes Its Debut at Computex Taipei 2014
Sponsored content
For the first time presenting at Computex Taipei 2014, Vision Advance Technology (VATek) is about to reveal the whole series digital modulator chips. Other than the multi-format DTV modulator chip, world's first ENMODER (Encoder + Modulator) will be shown at the fair as well.
Present multimedia connectivity, for commercial or home-use purposes, mostly is IP or WiFi based, yet bringing concerns about complicated set-up/settings and transmitting efficiency. VATeK released digital communication modulator chip Gen. I in 2013 as a low-cost, high-efficient solution for the dilemma. Gen. I features high bandwidth, long distance, anti interference, encryption, and it is able to carry out dual-mode (cable and wireless) communication. Except for being applied to FHD digital video data streaming transmission, it can also receive and launch Ethernet data in DTV communication way. As an all-round digital communication modulator chip, it modulates DTV signals in different formats (DVB-T/ATSC/DTMB/QAM) with ultra low power dissipation, and then transmits to display ports such as HD TV in the mode of digital broadcasting system. At last, through cable or wireless ways, data will simultaneously enter more than one receiver. It has been widely introduced into domestic agents and used on their high-end video products.
By 2014, VATek launched the original single chip, integrated with video encoder and modulated - ENMODER, which relieved the inconvenience (high cost) brought by the previous separation way. ENMODER, with built-in video compressing units, supports MPEG-2/H.264 compressing units utilized by DTV system, and the maximum picture quality it reaches is 1080P. In addition, its (ENMODER) ultra-low-delay compressing effectiveness and ultra-low-power-dissipation performance will by all means take you by surprise. ENMODER is an amazing choice that perfectly goes with professional video equipments.
Other than the ability to do multi-format modulation, indicated VATek, ENMODER's got compounded media interface so that it can do IPTV Stream, and hardware video capture. Possible applications of ENMODER are widely flexible. With mass production scheduled in the latter half of 2014, ENMODER is anticipated to shed an eye-catching light into the market, to which multimedia tool manufacturers are eagerly looking forward.
Except these Gen. I and Gen. II chips, we are planning that starting from 2015, VATek will be launching several chips with integrated functions, DTV modulator and multimedia compression related, including ENMODER that supports UHD video compression as well as the second generation digital terrestrial TV standards(DVB-T2).
Spectrum crunches is not a news as the ISM bands become overused and congested. With TVWS (TV White Space) new spectrum has become available to the wireless market. TVWS has been designated by the FCC to be a license-free application. VATek has introduced its Modulator into North American successfully, and has already being used in FCC approved TVWS products.
Vision Advance Technology Inc. (VATek), founded in Jan, 2014, is the subsidiary of Feature Integration Technology Inc, one of the leading enterprises of IC design industry in Taiwan. VATek is currently devoted to designing and manufacturing digital communication chips that aim at multimedia modulation and video compression.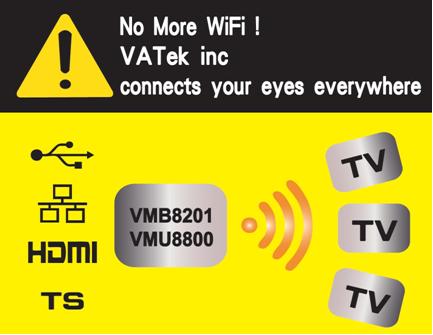 Photo: Company
Meet VATek in 2014 COMPUTEX Taipei - Hall 3 TWTC G0552
Contact us: marketing@vatek.com.tw