Intel has unveiled its new education-focused reference devices at Bett 2014, a learning technology event in London, the UK. The new Intel Education Tablet and the Intel classmate PC are part of Intel Education Solutions, which includes devices, software, content, services and teacher professional development that work together to transform learning and teaching for student success.
Both the Intel Education Tablet and the classmate PC are rugged designs that can withstand dropping off a desk (from 70cm) and provide water-resistance and dust-resistance.
The Intel Education Tablet runs on Android 4.2 and has kid-friendly features such as rubber bumpers on the sides making it easier for small hands to hold, a power button that resists accidental pushes and a stylus with a realistic pen-like grip. Powered by a dual-core Intel Atom processor Z2520, the 10-inch tablet has front- and rear-facing cameras and optional 3G support, and provides an average 12 hours of battery life.
The Intel Atom processor Z2520 clocks in at 1.2GHz and supports Intel Hyper-Threading technology, allowing four simultaneous application threads that further enhances the overall efficiency of the Atom cores. The integrated platform also includes an Intel Graphics Media Accelerator engine with a graphics core supporting 3D visuals, gaming and smooth, full 1080p hardware-accelerated video encode and decode at 30 frames-per-second.
The 10-inch Intel classmate PC is based on the Intel Celeron processor N2806 and runs Windows 8.1. A Windows 7 version and a Linux version based on Intel Celeron processor N2805 will be introduced later this year. The touchscreen-optional device features a rotatable camera to promote content creation.
The new Intel Education Tablet and Classmate PC are designed with features such as a snap-on magnification tool and a temperature sensor probe that plugs into the device's audio jack. These features allow students to view microscopic and macroscopic images and measure and analyze environmental data.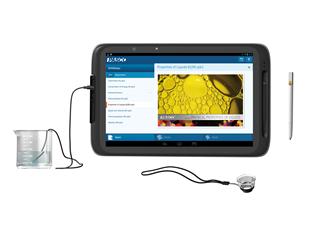 Intel new Education Tablet
Photo: Company