LG Electronics has unveiled its Lifeband Touch and Heart Rate Earphones, two wearable products that mark the company's first foray into fitness tech. Showcasing at the CES 2014 in Las Vegas, both products incorporate comfortable designs and compatibility with other devices.
Both devices are designed to help users take control over their health. The Lifeband Touch and the Heart Rate Earphones can wirelessly link up to each other, creating a wearable ecosystem. Connected to smartphones (Android and iOS supported), the devices can transmit data to LG Fitness app, or to a number of other third party apps such as MyFitnessPal, Runkeeper or MapMyFitness.
The Lifeband Touch features a touch OLED panel to display time, biometrics, incoming calls and music controls, the built-in 3-axis accelerometer and altimeter allows the device to accurately measure key performance indicators such as distance, speed, number of steps, calories consumed and projected pace. The device also offers wireless connectivity via Bluetooth to transmit data to a smartphone or receive data from third party devices such the Heart Rate Earphones.
LG's Heart Rate Earphones feature PerformTek sensor technology which measures blood flow signals from the auricle, the external part of the ear to capture accurate biometric data such as heart rate and maximal oxygen consumption (VO2 max). A clip-on medallion connected to the earphones provides Bluetooth connectivity, enabling the unit to send data to a smartphone or the Lifeband Touch.
The Lifeband Touch and the Heart Rate Earphones will be available starting in the US in the first half of 2014.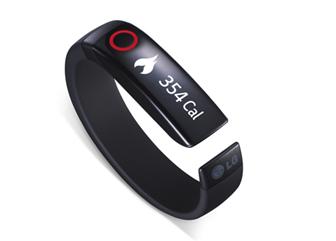 LG Lifeband Touch wearable device
Photo: Company