Intel announces collaboration with Arduino for new Galileo board
Press release; Joseph Tsai, DIGITIMES
Intel CEO Brian Krzanich has announced a collaboration agreement with Arduino, an open-source hardware platform in the maker and education community. Krzanich also unveiled the Intel Galileo board, the first product in a new family of Arduino-compatible development boards featuring Intel architecture.
Arduino development kits and software programming interface allow artists, designers and other do-it-yourself enthusiasts - who often don't have technical backgrounds - to create interactive objects or environments.
Krzanich also announced a large-scale donation of 50,000 Intel Galileo boards to 1,000 universities worldwide over the next 18 months.
The development board runs an open source Linux operating system with the Arduino software libraries, enabling scalability and re-use of existing software, called sketches. Intel Galileo can be programmed through Mac OS, Microsoft Windows and Linux host operating software. The board is also designed to be hardware and software compatible with the Arduino shield ecosystem.
Intel Galileo features the Intel Quark SoC X1000, the first product from the Intel Quark technology family of low-power, small-core products. Designed in Ireland, the Quark SoC X1000 is a 32-bit, single core, single-thread, Pentium instruction set architecture (ISA)-compatible CPU, operating at speeds up to 400MHz.
Helping to expand native usage and capabilities beyond the Arduino shield ecosystem, the Intel development board comes standard with several computing industry standard I/O interfaces, including ACPI, PCI Express, 10/100Mb Ethernet, SD, USB 2.0 device and EHCI/OHCI USB host ports, high-speed UART, RS-232 serial port, programmable 8MB NOR flash, and a JTAG port for easy debug. Intel Galileo will be available by the end of November.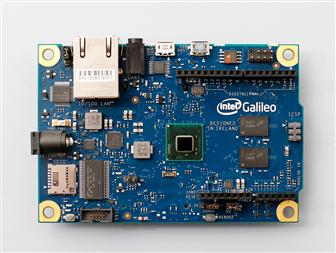 Intel Galileo board
Photo: Company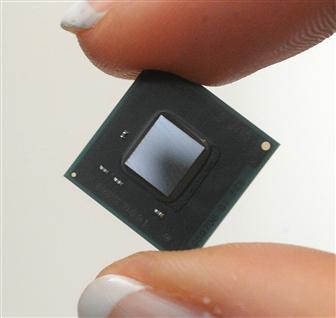 Intel Quark X1000 SoC
Photo: Company