Amazon has introduced the third generation of Kindle Fire - the new Kindle Fire HDX. The Kindle Fire HDX tablets combine the latest hardware, the newest version of Fire OS, and new features and services like X-Ray for Music, Second Screen, Prime Instant Video downloads, and the new Mayday button. Amazon also introduced the new US$139 Kindle Fire HD.
The Kindle Fire HDX features an HDX display with pixel density of 323ppi for 7-inch (1,920 by 1,200), 339ppi for 8.9-inch (2,560 by 1,600), 100% sRGB color accuracy, reduced glare, dynamic image contrast, and improved brightness, the vendor said.
The tablet comes with a quad-core Snapdragon 800 processor running at 2.2GHz provides over three times the processing performance compared to the previous generation, plus the latest graphics engine and more memory.
The Mayday button delivers a new live tech support - one touch connects users to an Amazon expert who can guide them remotely through any feature for free. Fifteen seconds or less is the Mayday response time goal.
Both 7-inch and 8.9-inch Kindle Fire HDXs feature 4G LTE wireless support and will be available on the AT&T and Verizon Wireless networks.
The 7-inch Kindle Fire HDX is priced at US$229. It is available for pre-order and it will begin shipping October 18. The 4G version is US$329 and will begin shipping November 14.
The 8.9-inch Kindle Fire HDX is US$379 and will begin shipping on November 7. The 4G version is US$479 with shipping to start on December 10.
The new Kindle Fire HD features a display with 1,280 by 800 resolution and 216 pixels per inch, a dual-core 1.5GHz processor and dual stereo speakers with Dolby Digital Plus audio.
The new Kindle Fire HD also has a similar industrial design as the new Kindle Fire HDX and is powered by the Fire OS 3.0 with hundreds of new and upgraded features, platform updates, and Amazon-exclusive services.
The new Kindle Fire HD will begin shipping October 2.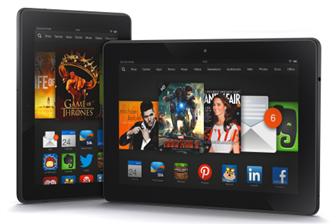 Amazon Kindle Fire HDX tablets
Photo: Company