Founded in Fuzhou, Fujian, Rockchip Electronics has launched a full range of mobile application processor chips – from the single-core CPU/dual-core GPU, to the dual-core CPU/quad-core GPU, and to the quad-core CPU/quad-core GPU. Rockchip has provided overall solutions ranging from chips to SOC software and hardware to allow the industry to seize the market opportunities for tens of millions white box tablets.
WINTEL duopoly gradually being broken
Feng Chen, CMO of Fuzhou Rockchip, compared the historic market caps of processor manufacturers Intel and ARM, and found that after the burst of the 2000 Internet bubble, Intel's total market cap jumped by 100-200x over its initial market cap. In contrast, after ARM was listed in 1998, it market cap has grown 800x. Looking at Microsoft, since becoming listed in 1985 and after reaching the highest point of 500x the initial market cap in 2000, Microsoft's growth has hovered between 400-450x in 2013. In contrast, after listing in 2004, Google had a 500x growth in market value by 2005 and its rate of growth has far exceeded that of Microsoft. By 2013, Google had a total market value growth of 2,500x, 5x higher than Microsoft's growth.
Chen pointed out that the PC is no longer just a personal computer, it should be defined as personal computing – an application architecture based on networked devices such as notebooks, mobile phones, tablets, or smart TVs connected to the Cloud. In the 1960's, approximately one million large mainframes had been accumulated. In the 1970's, that number grew to 10 million. The rise of PCs started in the 1980's, and the number of PCs exceeded 100 million by the 1990's. By 2000, mobile phones, mobile Internet devices, and notebook computers flourished and the combined market size of these devices topped one billion. The mobile Internet era has flourished since 2010, and the number of networked devices such as e-Readers, tablets, home automation units, smartphones, and car electronics will exceed ten billion by 2020.
Chen also listed the shipment volumes of the various digital devices five years after they became available in the market, as measured by various research firms. Notebook PCs had a growth rate of 61% per annum after they became available, but its shipment volume reached only 50 million units annually in the first five years. MP3 devices were the first to break the 100 million unit shipment mark during the first five years. Shipments for smartphones broke the 100 million unit mark after the fourth year, and exceeded 300 million by the fifth year. It was anticipated that annual shipments for tablets can reach an optimistic estimate of 441 million units, with the conservative estimate of 373 million units, or the worst estimate of 300 million units, within five years after they became available in the market.
Post-PC era revolution WINTEL replaced by GooARM
Why has the shipment rate of PCs remained at 300 million units, Chen believes that in addition to economic factors, the open architecture of GooARM (Google + ARM) has released the 90% bundled costs/profits of the WINTEL (Microsoft + Intel) duopoly that had strictly controlled hardware capacity and licensing to maintain high profits. Concerning the status of tablets, Chen believes that Apple's iPad initially had oligopoly and domination, and it would be difficult for other brand manufacturers to shake Apple's position. He suggested that the white box tablet manufacturers should take the path of eight-three-two law; have 80% of Apple product performance, are sold at one-third of the price of Apple, and enjoy twice the white box market growth rate. Besides the Android tablets launched by brand manufacturers, there are also the low-priced US$149 Amazon Kind Fire tablets and US$199 7-inch Google Nexus7 tablets. Chen estimates that non-Apple Android tablets also have a scale of 80 million units in market share.
Quite a large proportion of Google's revenue came from Internet advertisements. However, the ratio of an advertisement that has been clicked and read by mobile phones and tablets is only 10% of those clicked and read by users using notebooks or desktops. Therefore, Google and brand manufacturers have spared no effort to promote low-cost Wi-Fi Internet Chromebooks at a price range between US$299-399. In the future, there is much speculation in the market whether Android 5.0 will include Office, and whether Android 6.0 will use the multi-tasking Windows architecture.
Focusing on tablets to release diversified AP processors
Chen indicated that the competitive advantages of Rockchip are innovation, focus, and speed. Rockchip launched the high-speed language learning/language repeater chip in 2002, the MP4 video playback chip in 2005, and tablets and related application processors at the same time as Apple's iPad in 2010. In 2012, it was the first to adopt Globalfoundries' advanced 28nm HKMG process to manufacture high-end AP processors. Its company goal is also clear cut – focus on tablets. In terms of R&D speed, Rockchip has manufactured countless multi-project wafers (MPW) for design applications for use by up to 30 customers and provided turnkey solutions for OEMs to shorten development time. Rockchip only requires one month from the first mass production wafer to the launch of the end-product.
Finally, Chen also introduced Rockchip's processor family. The RK292x adopts the 1GHz single-core ARM Cortex A9 architecture with a 400MHz quad-core Mali-400 GPU design. It supports multiple 1080p video decoding formats but only 1080p H.264 encoding. Most of the white box tablets in China use this chip.
The RK3066 chip adopts a 40nm process and a 1.2GHz dual-core ARM Cortex A9 architecture with a built-in 400MHz quad-core Mali-400 GPU. It supports multiple 1080p video decoding and 1080p H.264/VP8/MVC encoding. The RK3168 adopts a 28nm process and the dual-core ARM Cortex A9 architecture. It has a working clock frequency of 1.2GHz, and its 600 MHz quad-core PowerVR SGX540 GPU supports 1080p multiple format decoding and playback, as well as the 1080p H.264/VP8/MVC video encoding.
The newest RK3188 chip adopts a 28nm High K Metal Gate (HKMG) process technology and the quad-core ARM Cortex A9 architecture. It has a working clock frequency of 1.6GHz, as well as built-in 600MHz quad-core Mali-400 GPU, DDR3 and LP DDR3 memory controllers, and embedded GPS baseband. The chip supports dual LCD screen outputs with the maximum resolution of 2048 x 1536, the OpenGL ES 1.1/2.0 and Open VL 1.1 graphics standard, and the multiple format decoding and playing as well as the 1080p H.264/VP8/MVC video encoding.
Rockchip has declared that its entire line of chip processors has been upgraded to support H.265/VP9 and HDPC2.0. Its 4G tablet PCs and digital TV tablet products with ISDB-T/DVB-T will be mass produced and shipped starting next month.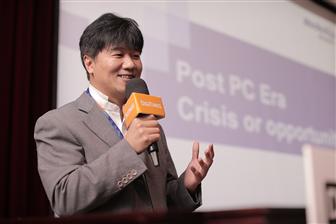 Feng Chen, CMO of Fuzhou Rockchip