Imagination says third party IP becoming a key driving force for silicon vendors
Press release
As process technology moves to 28/20 nm nodes, the gap between manufacturing potential and design capabilities is getting wider than ever. In order to integrate as many as possible functions in a single chip in the shortest time, silicon designers are increasingly choosing to license silicon intellectual property (SIP) from third parties rather than developing technologies internally. With high-quality, complete third-party IP solutions, silicon designers can focus their resources on building differentiation into their designs, including the ways that they connect the IP building blocks. As a result, the SIP market has grown rapidly in recent years.
According to a report published by MarketsandMarkets, the global Semiconductor IP market by revenue is estimated to grow from $2.5 billion in 2012 to $5.70 billion in 2017 at a CAGR of 14.5%. In particular, driven by various innovative mobile and consumer electronics, the SoC Processor IP segment is estimated to grow at a phenomenal CAGR of 21.2%, outpacing overall market performance.
Among processor IP, graphics (GPU) IP has become a key driving force to boost mobile SoC performance recently because of its parallel processing capabilities and scalability. Also, the heterogeneous computing architecture, which integrates CPU and GPU on the same chip, can also further enhance performance and reduce power consumption, opening up a brand new chapter for next-generation SoC design.
Top 20 leading semiconductor and OEMs, including Intel, MediaTek, Sony, and Samsung, all use SIP from third parties to develop a wide range of consumer electronics, such as mobile phones, tablets, TVs, set-up-boxes, car electronics, and so on. Moreover, by using the right combination of IP technology, semiconductor companies can stay at the forefront of smartphone and tablet markets, developing compelling user interface and graphic functions for its innovative devices.
Imagination Technologies, one of the top three SIP vendors worldwide, says that at the heart of the 'smart' revolution in consumer electronics are two pivotal sets of technologies: those for multimedia which enable smooth UI, rich graphics and high quality video, and those for connectivity which give devices 'live' intelligence and features such as location services, content on demand and social networking.
According to the company, increasingly the user experience delivered by leading 'smart' devices is determined by the smooth yet sophisticated GUI enabled by GPU. Not only mobile devices, other products, such as digital dashboards, telematics systems, rear-seat entertainment units, and multiple-screen displays, all rely on the GPU to realize rich graphic functions.
Imagination emphasizes that efficiently using different processors like CPUs, GPUs and communications processors is becoming an enabler not only for modern applications but also for design methodologies and process technologies, and that heterogeneous processing is transforming the way SoCs handle key user applications such as UIs, gaming, multimedia and more.
Imagination provides a wide range of SoC IP solutions. The full range of Imagination IP includes its market-leading PowerVR graphics, video and vision IP, MIPS CPU IP, innovative Ensigma communications IP, HelloSoft V.VolP and VoLTE IP, and Flow cloud connectivity IP solutions. These technologies offer customers unique differentiation and the most power and cost-efficient solutions.
After acquiring MIPS early this year, Imagination enhanced its existing CPU IP offering. Imagination was already strongly investing in CPU technology added MIPS to significantly accelerate those plans. This move enables the company to provide an extensive portfolio of leading IP solutions to address the design requirements for next-generation consumer devices.
Eyeing on the potentials of Taiwan market, Imagination held a technology forum in Hsinchu in 2012 for the first time and received very warm responses. Therefore, the company decides to further expand the scale and will hold its 2013 Imagination Summit on June 26 and June 28 in Hsinchu and Taipei respectively. This is the first public forum that Imagination will hold in Taiwan, following the MIPS acquisition. Developers can take this great opportunity to thoroughly understand the complete technology solutions offered by combining Imagination and MIPS, as well as the latest SoC development trends. Executives from Imagination's key partner companies will also deliver keynote speeches during the event. Please don't miss the one day-long series of presentations and interactive sessions that we particularly arranged for local developers!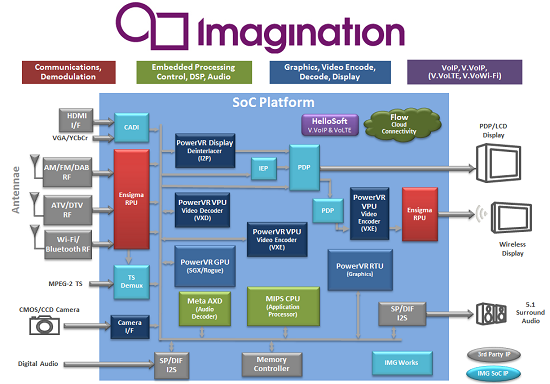 Imagination delivers IP for all key areas of an SoC
DIGITIMES' editorial team was not involved in the creation or production of this content. Companies looking to contribute commercial news or press releases are welcome to contact us.