New GTX 650 Ti BOOST Gaming Graphics card from MSI delivers cool and quiet gaming
Press release
Leading motherboard and graphics card maker is excited to announce its first MSI Gaming Graphics card. The new GTX 650 Ti BOOST Twin Frozr (MKT Name: N650 Ti TF 2GDC5/OC BE & N650 Ti TF 2GD5 BE) graphics card is equipped with NVIDIA's latest GeForce GTX 650 Ti BOOST graphics, 2GB of GDDR5 high-speed memory and PCI Express Gen 3. The new graphics card is fitted with the popular Twin Frozr III cooling design featuring proprietary dual 8 cm Propeller Blade fans, nickel-plated copper base and Superpipe technology.
The core temperature and sound level of the MSI GTX 650Ti BOOST Twin Frozr is just 65°C and 25.37dB when operating at full capacity, the perfect balance for an optimum gaming environment. Through MSI's exclusive Afterburner overclocking utility, the new Gaming graphics card's performance can be boosted by simply adjusting power and timing. NVIDIA 3D Vision Surround technology and up to 4 display outputs from a single card are supported as well, delivering the best gaming and multi-tasking experience that an enthusiast can have.
MSI delivers optimum gaming experience
The GTX 650 Ti BOOST Twin Frozr is the first product released by MSI in its new Gaming series of graphics card. The dragon on the box, MSI's Gaming logo, symbolizes the explosive performance lying dormant within that gives gamers the edge in their games. When combined with the Twin Frozr III cooling module, the perfect balance between temperature and sound makes the best possible gaming environment a standard part of gaming.
Twin Frozr III thermal design pushes temperatures down to 65°C
MSI's Twin Frozr III cooling design has proven its worth through rigorous testing by professional media. The proprietary Propeller Blade technology, patented in multiple countries, incorporates special air-flow channels into the edge of the fan blades to not only increase cooling coverage but also boost air flow by 20% over conventional fan blades for even better cooling! Under a full load, the core temperature of the MSI GTX 650 Ti BOOST Twin Frozr graphics card is just 65°C and noise during operation is only 25.37dB as well, clear proof that MSI products not only help gamers stay cool but also keeps the noise down for the best user experience!
Support for MSI's exclusive Afterburner overclocking utility
The MSI GTX 650 Ti BOOST Twin Frozr graphics card supports NVIDIA GPU Boost technology that dynamically adjusts the graphics card's operating frequency to optimize gaming performance. When used with MSI's exclusive Afterburner overclocking utility, gamers can adjust the power and timing at will to tap into the maximum overclocking performance. Afterburner also incorporates the free Predator game video capture function. Desktop PCs can also be remotely controlled via a smart phone. Add one-touch burn-in and benchmarking with Kombustor and you have a graphics card overclocking utility that no gamer should do without.
Support for single card 3D Vision Surround Technology
In addition to supporting the latest DirectX 11 standard, 3D Vision Surround technology means MSI GTX 650 Ti BOOST Twin can create a triple-monitor 3D surround environment on just one video card. Players that have 3D display monitors and 3D glasses will be able to enjoy the full visual experience offered by 3D games or movies. With up to 4 display outputs from a single card is also supported, gamers can enjoy the multi-tasking benefits of multiple display setups while enjoying their games.
*For more information about the GTX 650 Ti BOOST Twin Frozr, please visit: http://www.msi.com/product/vga/N650Ti-TF-2GD5-OC-BE.html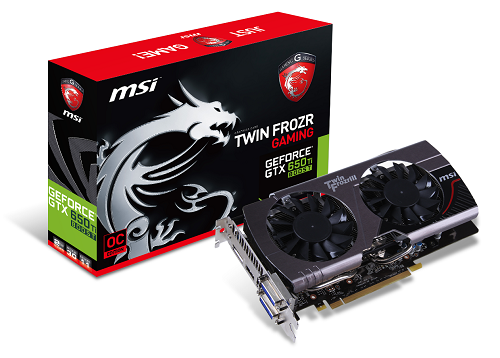 GTX 650 Ti BOOST Twin Frozr
DIGITIMES' editorial team was not involved in the creation or production of this content. Companies looking to contribute commercial news or press releases are welcome to contact us.