GIGABYTE, a leading manufacturer of motherboards and graphics cards, announced support for 4k display resolutions using multiple standard 1080p displays with Intel Collage display technology. The new collage feature is available from an Intel graphics driver update that needs to be individually implemented by motherboard companies before it is available to the user.
Using only the Intel HD4000 Graphics of any 3rd generation Intel Core i5 or i7 processor, GIGABYTE dual Thunderbolt motherboards with the new 4K Collage Graphics driver can power an Ultra HD 4k resolution video stream across four regular displays. Intel Collage display technology is simple to setup, using dual Thunderbolt ports that can be split into a total of four digital streams giving an incredible combined Ultra HD resolution of 3840 x 2400 pixels.
"Our implementation of Intel's new Collage display technology means that GIGABYTE's exclusive dual Thunderbolt motherboards are first to power the very latest Ultra HD resolutions across four of today's standard displays", commented Henry Kao, Vice President of GIGABYTE Motherboard Business Unit. "Offering a wealth of possibilities in commercial markets that include digital signage, surveillance, medical and more, we're also excited to offer PC DIY customers the opportunity to enjoy 4K resolution support with a simple driver update on their existing hardware, and without a VGA card!"
"We are excited about our collage display feature in our Intel platforms with 3rd generation Core i5 and Core i7 processors using Intel HD Graphics", said Zane Ball, Intel's General Manager for Desktop platform. "GIGABYTE's implementation of two Thunderbolt ports enable consumers to connect four monitors via splitters to a single system and experience UltraHD resolution and is a great example of the innovation enabled on these GIGABYTE Z77 motherboards with Thunderbolt."
Intel Collage technology
*Vertical Collage Mode Setup using a total resolution of 3840*2400

Two DisplayPort to Dual-DisplayPort adaptors were used in GIGABYTE's testing and implementation of the Intel Collage Display feature.
The new graphics driver is expected to be available for download from the GIGABYTE website by the end of January, 2013. You can find more detailed information including a setup guide and component compatibility list on the GIGABYTE website here: http://www.gigabyte.com/MicroSite/323/4k.html.
GIGABYTE motherboard's dual Thunderbolt ports
As the first motherboards to be certified by Intel featuring dual Thunderbolt ports, GIGABYTE's 'TH' models offer up to 10Gbps data transfer speeds from each port; this means you can transfer industry-leading HD graphics and data simultaneously. Each Thunderbolt port complies with the Display Port 1.1 standard (with support for 2K resolutions from each port), and therefore provide a combined throughput of up to 4K for the ultimate in display future-proofing.
For more information about GIGABYTE Thunderbolt motherboards please visit the GIGABYTE Thunderbolt website:
http://www.gigabyte.com/microsite/312/images/thunderbolt.html.
GIGABYTE Dual Thunderbolt models
Dual Thunderbolt Ports are featured on the following GIGABYTE motherboard models:
*GIGABYTE Z77X-UP5 TH
*GIGABYTE Z77X-UP4 TH
*GIGABYTE Z77MX-D3H TH
GIGABYTE at CES 2013
As well as a 4K resolution demo using Intel Collage display technology, GIGABYTE will also be showcasing the latest Thin Mini-ITX motherboards that are driving the development of a new and vibrant All-in-One system eco-system, including compatible companion chassis from partners Mitac and IN WIN. The latest GIGABYTE HD series motherboards will also be on display, highlighting GIGABYTE's new range of value segment motherboards that feature dual digital displays and our exclusive Ultra Durable 4 technologies.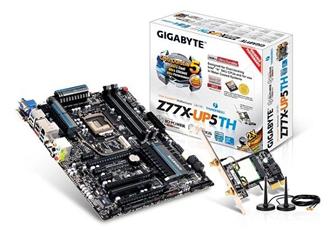 GIGABYTE Z77X-UP5 TH
DIGITIMES' editorial team was not involved in the creation or production of this content. Companies looking to contribute commercial news or press releases are welcome to contact us.