Intel hosts Intelligent Systems Summit 2012 to showcase complete solutions with partners
Sponsored content
Optimistic about the development potential of intelligent systems - driven by the Internet of Things (IoT) bringing new growth opportunities to the traditional embedded device market, Intel hosted the Intel Intelligent Systems Summit 2012 conference on October 16 and 17 to provide details about this interesting market. For the morning agenda, high-level Intel executives, as well as several of the company's key industry partners such as Microsoft and McAfee, made keynote speeches on related topics. During the afternoon agenda, there were a number of seminars hosted to discuss related topics including retail, security, cloud computing solutions, the latest embedded technologies and software. The conference also provided an opportunity to unveil the latest technology trends and complete solutions for intelligent systems, attracting a large number of industry professionals and students of related academic interest to participate in.
Rick Dwyer, Vice President of Sales Marketing Group (SMG) & General Manager of Embedded Sales Group (ESG) at Intel, delivered a keynote titled "Building the business opportunity of intelligent system" by pointing out that in the next ten years, IT devices for industries including medical, manufacturing, transportation, retail, communication, consumer electronics and energy will all take a development direction that makes intelligent designs become a part of all of our lifestyles. The key for the success of this process lies in how we expand computing technology applications to connect all the various embedded systems together.
Dwyer emphasized that focusing on both markets of intelligent systems and IoT, industries will provide attractive growth opportunities to enterprises and help them create value. Meanwhile, intelligent system development is also facilitating the changes in the industrial design trends. For instance, embedded systems can provide usage experiences similar to consumer electronics by combining the features such as touchscreen and motion detection; the rapid increase in data volume stimulates the requirement for better connectivity between cloud computing applications and analysis functions for big data; and the virtualization technology will help integrate work loading and establish a secure and trusted platform.
According to market research forecasts, shipments of intelligent systems will grow rapidly with a compound annual growth rate (CAGR) of 18% from 2011 to 2016. Total shipments were 1.8 billion units in 2011 with the volume creating more than US$1 trillion in revenues. By 2015, the scale will grow to 4 billion units and generate revenues of US$2 trillion.
Dwyer pointed out that the market of traditional embedded devices will continue to be promising with the development of intelligent designs, often accompanied by many challenges. For example, when establishing an IoT design for a smart city, vertical market applications that cover areas including industrial, retail, energy, automation, security and transportation, as well as proprietary technologies from suppliers and IT players are required.
Therefore, to realize the vision of the IoT, connecting and managing the networked devices and intelligent systems securely, conquering the connectivity challenges will be the priority. For that purpose, Intel at the Intel Developer Forum (IDF) this year announced its Intel Intelligent Systems Framework (ISF) 1.0 and is aggressively cooperating with partners to jointly establish a comprehensive ecosystem.
ISF's main purpose is to simplify the IoT. Currently, the industry is still at an initial stage of establishing a standard for IoT. Through the project, Dwyer pointed out that Intel is committed to accelerating the innovation in embedded systems and unite the whole industry in a big cooperation to create value for enterprises and consumers by utilizing big data and IoT. Currently, more than 200 members have joined Intel's intelligent system alliance and can offer more than 2,500 solutions.
In the future, Intel hopes to realize an IoT vision through industry cooperation and create new business opportunities and growth drivers. For embedded device players, the project not only involves hardware, but also provides them an opportunity to expand business to software and services, and further enhance the value they can offer the market. These players should take a more aggressive attitude toward this important opportunity for growth.
Intelligent storage solution designed to respond to the cloud computing era
David Tuhy, General Manager of Storage Division at Intel, highlighted that the rise of mobile computing has triggered rapid growth in the data volumes used by consumers and small-to-medium enterprises, which has brought increased demand and market opportunities for storage technologies.
In 2012, the data volume created by enterprises, consumers and machines will reach 2.7 zettabytes (ZB), with most of the content being unstructured data. For the reasons, new technologies are required to surpass the traditional tools for database to conduct interception, storage, management and analysis to handle the large volume of unstructured data. The statistic also showed that the IP traffic in 2011 was 1.5ZB and will grow to 4.8ZB in 2015, which will bring pressure to enterprise on data storage
Tuhy pointed out that these statistics indicate that the industry will face BIG Data challenges, bringing even more data volume, storage and traffic demands to the industry players and the rapidly increased data volume will mostly be unstructured data.
Tuhy also noted that the industry is bound to develop more innovative technologies to respond to the challenges of storage demand. Meanwhile, the challenges associated with large data volume can also bring profits and new development chances for enterprises. Furthermore, in the future, the role of CIO will transform to becoming a data scientist who helps to create even higher revenues opportunities for a company.
Intel can provide complete storage solutions that satisfy consumers, small-to-medium enterprises and cloud computing and enterprise infrastructure service suppliers to respond to the latest storage demands.
During the keynote address, Tuhy introduced Quanta Computer and Amplidata's jointly developed scale-out storage reference structure and he pointed out that demand for intelligent storage is currently rising quickly with many intelligent storage functions such as data compression, data de-duplication, automated tiering and thin provisioning all being realized through software; however, for these functions to become possible, reliance of processors with an even higher performance is a must.
To handle the storage demands in the cloud computing era, intelligent distributed storage architecture will become the best solution in terms of costs. Currently, Intel has assembled top-end storage players to establish a broad ecosystem to provide storage technologies that cater to the demands of small-to-medium enterprises and large enterprises.
In the meantime, in addition to Intel Xeon processors' leading position in the server market, the processors also account for a large share in the datacenter market. Intel will continue to invest in Xeon processors to make sure they are an ideal solution for intelligent storage system.
On the other hand, Intel has been aggressively working on the solid-state drive (SSD) business in recent years, as the company is optimistic about SSD device reliability and lower power consumption, as well as the faster performance for system boot up, application startup, file loading and recovery from sleep mode compared to traditional hard disc drives (HDD).
Erik West, Channel Marketing Director of Intel's NVM Solutions Group cited IDC report that factors such as technology upgrades, ongoing evolvement of the PC industry, renewal of enterprise server and storage architecture will help the CAGR of the global SSD shipments from 2010-2016 reach 53.3%, while the report also showed SSD annual sales in 2011 of US$5.7 billion, representing growth of 126% year-on-year.
West emphasized that the industry is a market with an enormous scale and Intel can provide complete SSD solutions to gamers, enterprise clients and datacenters with solutions which are mainly separated into 300, 500, 700 and 900 series products.
Among the product lines, except for 910 series, which is being supplied in a form of PCI Express expansion card, all others are in a form of 2.5-inch devices. Take the 520 series for example, the device supports a SATA 6Gb/s interface with sequential read and write performances at a maximum of 550MB/s and 520MB/s respectively, and random 4KB read and write performances at a maximum of 50,000 and 80,000 IOPS respectively. Additionally, it also features remote management to satisfy demand in the enterprise market.
Presently, Intel possesses leading manufacturing process technologies and is already ahead of its competitors in investments of 20nm SSD production. Moreover, through cooperating with Micron Technology, Intel is equipped with a complete set of production technologies from manufacturing, firmware to products for SSDs.
Microsoft targets all kinds of intelligent systems with Windows Embedded
Microsoft is optimistic about the potential of intelligent system development, with company Marketing Director John Boladian explaining that intelligent systems can collect important employees' and clients' data on various devices and then transmit the data to back-end systems for interpretation to obtain further insight. Such business processes can create new value for the enterprise.
According to the definition mentioned, intelligent systems feature three advanced characteristics - management, user experience and analysis - as well as three basic characteristics - identity, security and safety. Boladian pointed out that by 2020, there will be 50 billion networked devices worldwide and with rapid development in technologies for connectivity, handling large data volumes, computing functions, user interface and security, it will trigger changes in industrial and lifestyle applications. Data processing will undergo its own revolution, helping data to become a new currency that affects enterprises' strategic plans and also promotes the rise of intelligent systems.
Boladian indicated that the market of intelligent systems has showed strong growth recently and is expected to have a promising future. Microsoft will adopt three strategies for the market. First, Microsoft will try to create better user experience and bring control methods such as Kinect and multi-touchscreen into intelligent systems such as digital signage to allow users to have a similar interactive experience with the intelligent systems as they do with regular consumer electronics; the second is improving the connectivity for cloud computing and the last is to provide intelligent systems a trusted and multiple-architecture-compatible operating system platform in orders to satisfy all the demands from different operating systems and allow for convenience in software development.
Windows Embedded system will play an important role in Microsoft's intelligent system strategy, while the company will also push the system in four major industries - retail, industrial automation, medical and automotive. In addition to providing a complete solution for all different types of devices, Microsoft also supplies end-to-end solutions to help connect from end devices to cloud computing applications.
Boladian emphasized the importance of the intelligent system market is that the industry will promote opportunities for new types of devices, services and even business growth, while helping related players transform from pure hardware suppliers to professional consultants. In response to the trend, the related players should start considering their future strategies in order to develop differentiated products. Meanwhile, Microsoft will act aggressively to cooperate with industry players to drive market growth.
Intel and McAfee merger helps build integrated security solutions
A presentation by McAfee Vice President of Worldwide OEM Sales, Thomas Moore, highlighted that security will be an important cornerstone for realizing a future in which several billion networked devices connected securely worldwide. When reviewing the history of the Internet, it is discovered that the attack methods and targeted networks were always changing and evolving. According to market report, the number of malicious network attacks rose rapidly from less than 10 million in 2007 to 60 million in 2011 - or an average of 70,000 attacks each day and the number is estimated to hit 200 million by 2016.
In the past, security solutions were mostly designed to target PC, data center or mail server applications, but with embedded devices heading in a development direction of becoming more intelligent, the related security issues for such intelligent solutions will gradually become increasingly important in the future. For example, network attacks that target applications such as power plants, medical devices, automobiles and retail may result in serious negative effects or losses for a firm.
Moore pointed out that device identity authentication functionality is the most basic requirement for security in an intelligent system. Devices must be able to confirm the identity of each communicating device before conducting data exchange. For implementing data security, proper encrypted protection and regular system updates are a must to ensure that the whole network has a secure environment for data transmission and accurate operation.
McAfee focuses especially on resolving the security problems of networked embedded systems. For example, NCR has adopted McAfee's technologies to protect its ATM and POS devices, indicating that McAfee has successfully expanded its business from enterprise security solutions to client device applications.
Moore pointed out that we are facing close to 70,000 malicious network attacks each day, while this number is counted based on that can currently be managed. In the future, unknown types of attacks are expected to appear. Therefore, developing a device that can protect from these unknown network attacks will be critical to the related players.
Moore emphasized that McAfee is an expert in security technologies and has full control of the latest worldwide network security technology developments. Any device that suffers from unknown types of network attack can be given to McAfee for evaluation and analysis. McAfee's White List solution is the best method to protect embedded devices from a security threat, while also even sharing the related data with partners and clients to ensure the safety of the networked devices and jointly promoting the overall development of embedded system security technology.
After Intel announced it would acquire McAfee in August of 2010, both sides have been aggressively cooperating on developing new technologies. For example, the major difference between Intel's latest third-generation Core vPro processor series and the previous processor series is the CPU's embedded security protection functions, which integrate Intel's AMT and McAfee's ePO Deep Command technology together.
McAfee's ePO Deep Command is an extension of the company's advance endpoint protection management program, allowing clients to remotely repair PCs that have been compromised as well as install the latest security update files and securely conduct data exchanges. Intel and McAfee's cooperation will also create even more and professional security technologies.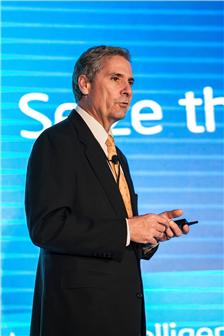 Macfee's Tom Moore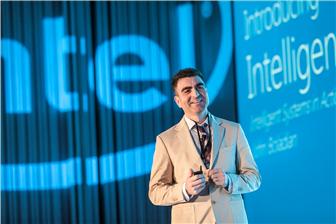 Microsoft's John Boladian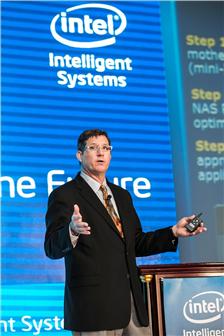 Intel's David Tuhy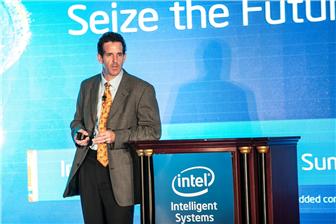 Intel's Erik F West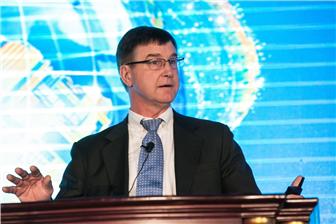 Intel's Rick Dwyer