InnoDisk, a worldwide leading manufacturer of industrial data storage solutions, announced the release of their Compact Flash Serial ATA (CF-SATA) module with high reliability and excellent data transfer speeds. An effective replace solution for CF cards, InnoDisk's CF-SATA, has the same mechanical design with Compact Flash card and complies with Serial ATA by extracting unusual pins from CF50 pin. Hence, Compact Flash card and CF-ATA can share with one CF50pin socket.
Due to its high reliability, Compact Flash has been hugely successful as a memory card format for industrial applications. In recent years, The CompactFlash Association has come out with similar form factor designs based on Serial ATA (SATA) instead of Parallel ATA (PATA) in order to raise the efficiency of Compact Flash. Unfortunately, system integrators have had to design layouts for new form factors, which require new motherboard designs of 7+17 pins and increases the cost of parts. In addition, CF cards with PATA interface are set to be phased out sooner than those with SATA interface. Naturally, the industry has found it a big headache transforming CF-PATA to CFast.
InnoDisk has stepped up to the challenge and delivered a product that not only fulfills the industry's needs, but goes beyond. Its CF-SATA has been able to leverage the SATAII interface and with 4 channels boasts read/write speeds of up to 120MB/Sec and 95MB/Sec respectively - 3 times faster than CF cards.
InnoDisk's CF-SATA provides several high-end product features such as a built-in LED light which notifies users on the health of the CF-SATA. InnoDisk's CF-SATA also comes with a Write Protect Switch for data read-only setting.
Other features that make InnoDisk's CF-SATA ideal for industrial applications include support for industrial grade up to 64GB; a Thermal Sensor for monitoring the temperature of the operating environment; InnoDisk's Wear-Leveling algorithm for data loss prevention; and iSMART command for monitoring the overall health and life cycle of the drive.
The unique design and outstanding performance of CF-SATA has been adopted by several famous company, such as ASUS, AAEON, Adlink, Avalue, Axiomtek, PerfecTron, Lanner, Portwell. For more information on InnoDisk's product line, technologies and applications, please visit http://www.innodisk.com/.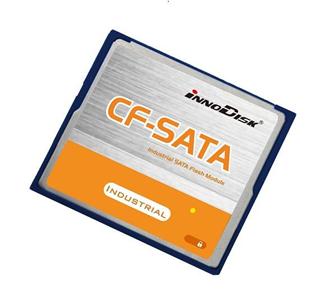 InnoDisk CF-SATA
DIGITIMES' editorial team was not involved in the creation or production of this content. Companies looking to contribute commercial news or press releases are welcome to contact us.