Projected capacitive touch - ITO layout evolution
Sponsored content
As one after another handheld consumer electronics gadgets such as tablets and smartphones emerges in the market, touch panel technology, with its capability to enable smaller devices, lower manufacturing cost and intuitive user experience on small screens, is no longer confined to conventional industrial/commercial applications like kiosks, KTV jukeboxes, machines at production lines, POS and ATM. It is gradually replacing traditional keyboard/mouse as the major interface for man-machine communication and interaction on personal devices.
DisplaySearch forecasts that global touch control module shipment will reach 1.4 billion units by 2015 with a revenue totaling US$9 billion. Japan's Fuji Keizai also estimates that by 2016, the market will grow 110.5% from 2011 with a total output at JPY775.3 billion.
Multi-touch already a trend for touch panels
PIXCIR COO Vincent Fuentes said more and more daily-life hardware and applications (such as 3D interactive games and web mapping devices), even Microsoft's Windows 7 and Windows 8 operating systems, begin to support touch control interface. In view of this trend, global touch panel market will enjoy dramatic growth in the next few years.
Multi-touch technology, which enables multi-finger motions on one panel, has been particularly popular since the launch of the Apple iPhone due to higher operation flexibility when compared to single-touch, personalized input methods, and its more intuitive and simple usage that can do without painstaking learning processes.
Currently, touch panel technologies that are mature enough include electromagnetic, SAW, optical (CMOS imaging and infra-red), pressure detection, capacitive (surface capacitance and projected capacitance) and resistive modules (analog and digital.) Resistive modules are more widely adopted as it was developed long time ago with lower manufacturing cost.
Due to soaring demand for multi-touch, however, related technology has evolved as applications and operating systems advance from the simpler two- and three-point touch to 10-point that is stricter on report rate, power consumption and false alarm standards. Among all the above-mentioned touch control technologies, only projected capacitance can meet all the requirements. This is why almost all all-in-one (AIO) PCs or ultrabooks on exhibit at Computex 2012 were equipped with projected capacitive panels.
Optimization of product should start with casing design, cover lens thickness and electrode layout selection
Projected capacitive technology is basically based on capacitive sensing, which detects the changes of capacitance in ITO contacts on ITO glass in order to identify the touch positions and motion trajectory when users touch the screens with fingers. Therefore, it can precisely get the accurate touch positions without alignment, and the subsequent characteristics of near-field probe and greater sensitivity will prevent scratches and cracks of the screens for longer device life.
Fuentes said projected capacitance technology include self capacitance and mutual capacitance. He explained that self capacitance is modified by the direct coupling between a finger and one electrode, and the touch position is located by measuring the changes of capacitance in the electrode. Mutual capacitance is the coupling between two electrodes.
It is noteworthy that in order to avoid crosstalk between fingers that can lead to touch position misjudgment and floating, a good return path is necessary when designing panels and self capacitance should be as low as possible.
Floating can be directly subjected to circuit (the closed loop circuit between device and user), self capacitance and mutual capacitance that vary with the device's casing, size, power line (power supply connecting exterior alternating current or direct current), user location and the way the device is held. It is not directly linked to the device's driving voltage and sensing technology. Fuentes continued that vendors can start with design and integration of device casing, cover lens thickness and electrode layout selection to increase the panel's sensitivity and identification efficiency under multi-touch mode.
Differences and solutions of various electrode layouts
For the SITO case, common electrode layouts include Diamonds, Hollow, Empty, Matrix, Radiator and Islands. Tested with 6mm electrode pitch and 8mm touch point diameter, each electrode layout delivers different performance in linearity, floating (portable devices), SNR, covers thinner than 0.5mm and screens larger than 12 inches.
Except for the category of large screens, the Radiator layout performs well in all aspects. The Diamonds layout is good in thick covers and large screens, but is doing OK with linearity and SNR while performance in thin covers and floating is even worse. Vendors can choose suitable layouts according to their needs, or make some adjustment in relevant design parameters to achieve best performance.
For example, in the Radiator layout vendors can optimize its fin pitch for best effects. According to tests done by PIXCIR, when pitch is smaller than cover the mutual signal is doing well but the ITO loading would be too high. On the contrary, ITO loading is good if the pitch is larger than cover but its mutual signal will be weak.
Therefore, the best way is to equalize the pitch and the cover so that mutual signal and ITO loading will be in range acceptable for vendors. Ring width is the key for the Hollow layout. Ring width must match the cover lens thickness. Fuentes said the ITO to ITO gap should match the process rule and should follow the optical requirement (typically 40-100um.)
PIXCIR recognized for long-time devotion to projected capacitance technology
PIXCIR CEO Jiin-Wei Hung said his company has been devoted to the development of projected capacitance technology since the iPhone emerged. The company has six core patents in Europe, the US, Korea, Japan, China and Taiwan, and has been licensed with EU patents. As for Taiwan, PIXCIR also has 244 patent applications, with 133 in reviewing process and 61 approved.
Its Tango method has been widely adopted in the handset market (such as DIFO 4.3-inch handset, Dell 5.0-inch MID, CGMobile 4.0-inch handset, Lenovo 5.0-inch MID, GuoXT 4.3-inch handset, Ramos 8-inch tablets, etc), as well as in consumer electronics products like digital cameras and coffee machines.
Hung emphasized that PIXCIR is not only a partner of WPG Holdings but also a qualified supplier recommended by Qualcomm and Spreadtrum. Hung forecast that with Tango's module manufacturing cost lowering to the same level as resistive panels, more mature OGS technology and growth opportunities brought by upcoming Windows 8/ultrabook, capacitive touch panels will replace resistive touch panels in a very short time and become mainstream in the market.
As market demand expands rapidly while supply fails to keep up with it, a war in the touch panel market is bound to begin. PIXCIR will hold on to the Tango series' market positioning philosophy and continue to develop touch control ICs with the highest price/performance ratio, offering the best touch panel solutions to industrial control, home appliances, telematics and consumer electronics products.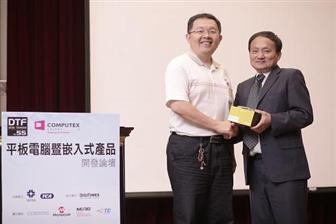 Jiin-Wei Hung, CEO, PIXCIR (right)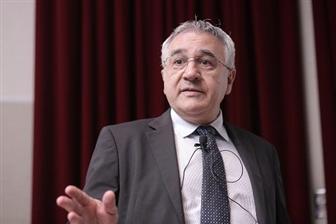 Vincent Fuentes, COO, PIXCIR
DIGITIMES' editorial team was not involved in the creation or production of this content. Companies looking to contribute commercial news or press releases are welcome to contact us.