Nvidia has announced the GeForce GTX 690, powered by dual Kepler architecture-based GeForce GPUs.
The announcement was made by Nvidia CEO and co-founder Jen-Hsun Huang during his keynote address at the Nvidia Game Festival in Shanghai, which is being attended by more than 6,000 gamers from across China.
The GTX 690 is powered by a total of 3,072 Nvidia CUDA cores, all working to deliver gaming performance for ultimate gaming setups. Designed for the discriminating gamer and ultra-high-resolution, multi-monitor Nvidia Surround configurations, the GTX 690 delivers close to double the frame rates of the closest single GPU product, the GTX 680, Nvidia said. Plus, it is more power efficient and quieter when compared to systems equipped with two GTX 680 cards running in Nvidia SLI configuration.
The GTX 690 graphics card is designed using GeForce GPUs based on NVIDIA's 28nm Kepler architecture, following the introduction late last month of the GTX 680.
The Nvidia GeForce GTX 690 GPU will be available in limited quantities starting May 3, 2012, with wider availability by May 7 from Nvidia's add-in card partners, including Asustek Computer, EVGA, Gainward, Galaxy, Gigabyte Technology, Inno3D, Micro-Star International (MSI), Palit and Zotac. Expected pricing is US$999.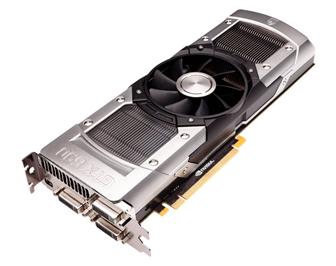 Nvidia GeForce GTX 690 graphics card
Photo: Company