Intel has introduced the quad-core third-generation Intel Core processor family, delivering visual and performance computing gains for gamers, media enthusiasts and mainstream users alike. Available now in high-end desktop, notebook and all-in-one (AIO) designs, the new processors are the first chips made using Intel's 22nm 3D tri-Gate transistor technology.
The combination of Intel's 3D tri-gate transistor technology and architectural enhancements help make possible up to double the 3D graphics and HD media processing performance compared with its previous generation of chips, said Intel. With as much as 20% microprocessor performance improvements and new technologies to speed the flow of data to and from the chips, the new processors further extend Intel's overall performance leadership.
In the coming months, additional versions of the third-generation Intel Core processors will be available to power a new wave of systems ranging from ultrabook devices, to servers and intelligent systems in retail, healthcare and other industries.
The performance gains found in the new processors are due in part to the groundbreaking, three-dimensional structure of the new Intel transistors. Until today, computers, servers and other devices have used only two-dimensional planar transistors. Adding a third dimension to transistors allows Intel to increase transistor density and put more capabilities into every square millimeter of these new processors.
Intel engineers also reworked the graphics architecture of the third-generation Intel Core processors, helping to deliver dramatic improvements in the overall visual experience, the company said.
The third-generation Intel Core processor with Intel HD Graphics 4000 delivers up to two times better 3D graphics performance compared to the previous-generation processor. Intel HD Graphics 4000 supports Microsoft DirectX 11, OpenGL 3.1 and OpenCL 1.1.
With Intel Quick Sync Video 2.0 technology built into the new processors, people can convert their videos up to two times faster than even last year's processors and up to 23 times faster than PCs just three years old.
The third-generation Intel Core processor also adds security features, including Intel Secure Key and Intel OS Guard to safeguard personal data and identity. Intel Secure Key consists of a digital random number generator that creates truly random numbers to strengthen encryption algorithms. Intel OS Guard helps defend against privilege escalation attacks where a hacker remotely takes over another person's system. These two features join existing platform security features such as Intel Identity Protection Technology and Intel Anti-Theft technology to help make Intel platforms some of the most secure in the industry. When paired with the Intel Series 7 Chipset, the new processors with Intel IPT can make a portion of the screen unreadable to spyware with the "protected transaction display" feature, helping prevent a hacker from obtaining login credentials that could lead to identity theft.
Platforms based on third-generation Intel Core processors also deliver faster data transfer capabilities made possible by USB 3.0 integrated into the Series 7 Platform Controller Hub (PCH) and PCI Express 3.0 integrated into the processor. These next-generation I/O technologies bring bigger data pipes to the platform to keep data moving, minimizing any interruption to the PC experience.
Systems based on quad-core third-generation Intel Core processor products will be available beginning this month from leading system makers. Boxed versions of these processors will also be available this month from online, retail and channel resellers. Additional versions of the third-generation Intel Core processor products for servers, intelligent systems in retail, healthcare and other industries, Ultrabook devices and notebook and more will be available later this year.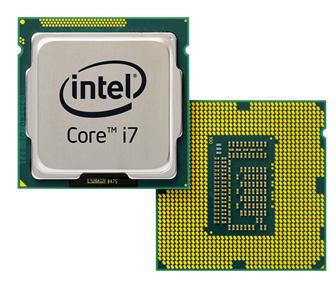 Intel Ivy Bridge-based processor
Photo: Company