Apple has introduced its third generation iPad, which features a Retina display, Apple's new A5X chip with quad-core graphics and a 5-megapixel camera with advanced optics. The new iPad also comes with Wi-Fi+4G connectivity to fast networks worldwide, including AT&T's and Verizon's 4G LTE networks, while delivering the same all-day 10 hour battery life, Apple said.
Meanwhile, Apple has lowered prices for its iPad 2 to a level starting at US$39.
The new iPad's Retina display delivers four times the number of pixels of iPad 2, Apple noted. The 3.1 million pixels in the Retina display are more than one million more pixels than an HD TV, and with 44% increased color saturation the new iPad displays colors. Movies are also capable of playing at full 1080p HD-resolution.
The new A5X chip with quad-core graphics was specifically designed by Apple to deliver a fast, responsive user experience while supporting the Retina display, Apple pointed out. With double the graphics performance of the A5 chip, the A5X provides a balance between performance and power efficiency so that users can enjoy all the benefits of the new display while experiencing a multi-touch interface, immersive gameplay, incredible visual depth and all-day battery life, Apple said.
The 5-megapixel iSight camera features advanced optics for taking pictures and recording full HD video, Apple indicated. Backside illumination allows users to take photos in low-light conditions and a new video image stabilization feature removes the bumps and shakes typically seen when filming with a hand-held device.
The iPad Wi-Fi+4G with built-in next generation 4G LTE also delivers comprehensive support for networks worldwide including HSPA+ and DC-HSDPA, and now both CDMA and GSM iPad users have the ability to roam internationally, Apple said.
Apple also introduced the iPhoto app, along with major updates to iMovie and GarageBand, completing its suite of iLife apps for iOS. iPad runs almost all of the over 585,000 apps available on the App Store, including more than 200,000 native iPad apps.
The new iPad Wi-Fi models will be available in black or white March 16 for a suggested retail price of US$499 for the 16GB model, US$599 for the 32GB model and US$699 for the 64GB model. iPad Wi-Fi+4G for either AT&T or Verizon will be available for a suggested retail price of US$629 for the 16GB model, US$729 for the 32GB model and US$829 for the 64GB model.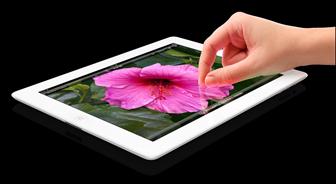 Apple's new iPad features a Retina display, A5X chip, 5-megapixel camera and 4G LTE connectivity
Photo: Company