Acer has unveiled its latest ultrabook with the Aspire S5, an ultra-slim device that measures only 15mm at the maximal point. It weighs less than 1.35kg (less than 3 lbs) and is built with a 13.3-inch LCD panel. In addition, it features the Acer Green Instant On technology for fast boot and resume, and Acer Always Connect, which lets users manage their multimedia and data on all their devices.
Acer Always Connect gets users online faster than conventional connections, the vendor said. With their Facebook, Twitter and Outlook email accounts open, users can see updates instantly upon resuming. Furthermore, Acer Always Connect can wake up the Aspire S5 from a remote device like a smartphone. Access to all documents, music, pictures and video files is fast and always available.
Adorned with a curved chassis in Onyx Black, the Aspire S5's cover rim wraps around the system body like a protective shell. A magnesium-aluminum alloy cover and palm rest provide a slimmer and sturdier form, while the metallic brushed detail presents subtle elegance.
The Aspire S5 is Acer's first ultrabook to feature a smartly designed MagicFlip I/O port panel concealed just below the hinge. This design feature enhances the overall slenderness and streamlined form of the S5. When needed, a press of the MagicFlip key opens the panel to reveal a selection of I/O ports: HDMI, USB 3.0 and 20Gbps Thunderbolt.
The Aspire S5 features an Intel Core processor, SSD storage for speed and increased shock resistance, professionally-tuned Dolby Home Theater v4, long battery life via the PowerSmart battery pack with a three times longer life cycle. The battery will hold up to 80% of its original capacity after as many as 1,000 recharges.
The Aspire S5 will start shipping in the second quarter of 2012.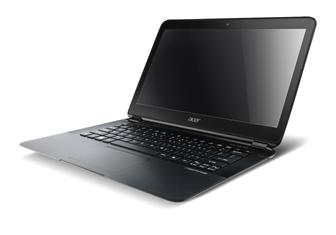 Acer Aspire S5 ultrabook
Photo: Company