Taipei, Taiwan, May 31, 2011 - First International Computer, Inc. (FIC), a world leader in the design and production of electronic devices today unveiled their first Android tablet, Elija to the attendees at Computex 2011. The new tablet from FIC is equipped with a 9.7-inch IPS capacitive multi-touch screen and powered by the i.MX53 processor, the Freescale's latest implementation of ARM Cortex-A8 core architecture. Running on the Android 2.3 operating system, Gingerbread with combing FIC Sense user interface, the Elija delivers desirable, exquisite and super mobile features to lead your smartest mobile lifestyle.
"Elija is created with innovative and revolutionary," says Andy Lo, Director of Sales marketing, FIC. "Fashionable orange deco lines with magnesium alloy grip finish make the Elija the most desirable tablet to play, work and learn at your fingertips," says Andy Lo.
Boasting the Freescale's powerful i.MX53 processor at 1.0GHz and up to 8 hours of battery life, Elija improves the overall system performance and optimizes the best mobile productivity. By adding a dedicated hardware video processor on i.MX53, the Elija is capable of full 1080p video decode with minimal CPU loading for extraordinary multimedia applications. Moreover, it allows users to display the tablet entire content on larger HD screens through a mini HDMI output port. An IPS (in-plane switching) technology is embedded in Elija's brilliant 9.7-inch to deliver a fast response speed and offer a vivid picture quality that displays precise and consistent color for ultra-wide 178 degree viewing angle. FIC's Elija brings the enhancement to the Android platform.
FIC's Elija employs a front facing 2 mega-pixel webcam for instant video communication and a rear facing 5 mega-pixel camera for photo taking and high definition video recording, enriching your social network communication and capturing the images to see and be seen. The FIC's Elija is built-in g-sensor, e-compass and gyroscope that deliver console-like gaming enjoyment and versatile applications.
There are three wireless connectivity versions for Elija -the standard version with Wi-Fi, the premium version with both Wi-Fi and 3.5G, and the 4G version with both Wi-Fi and 4G. FIC announces the launch of their Elija tablet embedded with 4G mobile broadband connectivity based on Beceem's BCSM350 single chip solution which delivers a seamless hand-over solution.
Besides, Elija also features an optional GPS function that allows users to find their destination easily. A Mini USB port as well as a Micro SD Card reader is designed in the 11.8mm thick frame that weighs only 650g for providing flexible storage expandability and fast file sharing.
"Slim, light, stylish and functionality make FIC's Elija an exciting portable companion for both work and play," says Andy Lo, Director of Sales marketing, FIC. "We're not only making it a portable entertainment device. Integrating some enhancing solutions, such as Citrix® XenDesktop, a virtual desktop and application which can help enterprise anywhere their users work and AMIMON's WHDI (Wireless Home Digital Interface) technology to enable users to wirelessly watch the tablet's content on the HD TVs, FIC's Elija to feature an expandable solution designed for tablets and leverage today's outstanding technology to deliver an entirely different experience."
To learn more about FIC and FIC's Elija tablet, see FIC at Computex 2011, NanGang Exhibition Hall, booth no. M303a or see http://www.fic.com.tw/.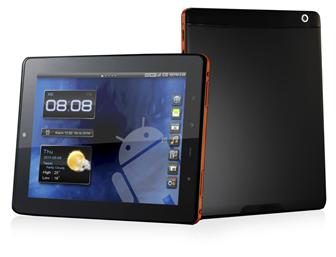 FIC Elija table PC
Photo: Company