Vantec Thermal Technologies, a specialist of computer accessories and storage solutions, has announced the completion of the NexStar FX network attached storage (NAS) enclosure product lineup. Expanding upon the existing NexStar FX NAS adapter and the single-bay NAS enclosure released earlier this year, the new additions now feature the ability of supporting RAID redundancy and more terabytes of usable storage space.
The new additions to the NexStar FX line are a dual-bay hard drive array and a quad-bay unit. Both feature a magnetic front door and tool-less slide-in hard drive design found in the original single-bay NexStar FX. The two new models are equipped with LCD screens which constantly gauge storage space and network status. In addition, these two units have network support as well as RAID functionality.
The new NexStar FX models are on display at Computex 2011 (Hall 1, B634), and will be available on the market later this year. For additional product information and full technical specifications, please visit www.vantecusa.com.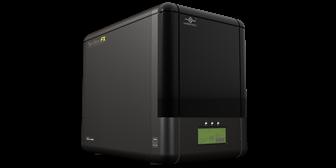 Vantec NexStar FX
Photo: Company