UReach, the leader in the duplicator business, has set new standard of duplicators' speed and performance. This year's COMPUTEX 2011, UReach presents many powerful add-on value technologies for publisher and duplicator field applications.
In 2002, UReach starts to design and manufacture their first DVD controller. UReach is very confident with their high compatibility and even will suggest you to buy controller only for the best economic shipping purpose and you can select any drives and disc as you preferred. As well as this, UReach is the only one in the duplication business who can provide even more value-added products within disc copy category. When you see iShare series, the Flash to disc duplication, you will find out it is a customer-oriented product. You can just put a Flash media such as a USB or a SD card as your source media, then iShare duplicator will copy the content from Flash media directly to discs. It is very convenient for office staff to backup their working materials everyday. From the details, you will realize their intention and effort on putting more values to their products and cooperation partner to bring simple-to-use equipment and avoid price war.
UReach, also is the world's leader in Flash duplicator, delivers the leading-edge specification and feature-rich products around the world. With the unique modularized design, they are offering the biggest and fastest Flash duplicator in the whole world. It will be a great idea if you can visit and see the biggest Flash duplicator which you can copy 256 Flash targets at the same time without copy speed degrading at their booth at Nangang Hall, K0216. Of course, big scale is not always suitable for everyone, a lightweight 1 to 2 targets Flash duplication can be a portable tool for people who need to carry it to anywhere. UReach offers wide range of choice for mass production or can be a smart personal tool for small-business owners. Surely, the duplicator can not only do the duplication. The diagnostic tool which as profession as PC software is one of a useful and reliable tool for quality control purpose. H3 and H5 are the problem-diagnostic tool to find out the bad sector of entire Flash media. Unlike PC, UReach Flash duplicator can check hundreds Flash module at the same time to save you a lot of time on quality control process. The range of Flash duplicator are ideal for small to large business and organizations including manufactures, content distributors or persons who is buying or selling Flash modules.
Through UReach PC Link technology, you can select function from PC to order your duplicator to execute the function such as copy, compare or verify...and so on. And get real-time information of the duplication on PC to know the copy result and reports of status. Then, further production log report of the task is available for production management. For managers, you can now have accurate yield rate information on duplication task or quality of Flash media. You can now monitor your operation and to reduce the cost of mistake in advance. All the innovation combines with smart applications based on UReach's technology infrastructures.
In 2011, UReach presents a new breakthrough of technology for publishers, which brings incredible solution for both copy protection and mass protection. This is the dreamed solution for publishers who try to protect their intellectual property without worry of piracy and not to lose production efficiency. As an industry leader in the business, UReach presents copy protection solution to content publisher and software developer to protect their intellectual property with Flash media. The AP100 publisher tool makes it feasible to allow book or contents to be published and distributed via USB stick without paper printing and require no specified devices to read. All the information can be freely distributed without worry of piracy, without worry of heavy weight of the books. The information can be freely carried to anywhere as you like.
As a number-one leader in the duplicator industry, UReach products have been approved by numbers of leading manufacturers around the world. With ongoing R&D, we believe UReach will surpass themselves and keep providing better values, products and support to customers. Visitors can find out more about the company and its products in Hall 4, Booth K0216 in Nangang Hall.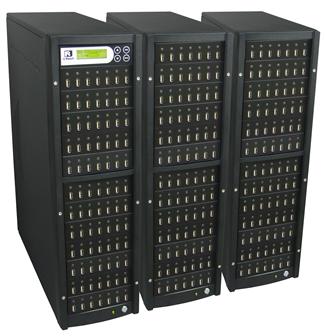 UReach flash duplicator
Photo: Company