Maintaining its position as a market leader, Thermaltake Technology steadily leads the PC DIY, Apple accessory and electronic games markets. In the 2011 Computex Taipei, Thermaltake continues to uphold the company mission of been "committed to creating the perfect User experience" and to fulfill the company mission of building "a cultural brand for the enjoyment of entertainment, e-Sports, technology and lifestyle." With its four brands - Thermaltake, Tt eSPORTS, LUXA2, and Tt APOLLOS professional e-Sports team, Thermaltake is determined to demonstrate to domestic and foreign markets its unwavering pursuit of offering products of the highest quality, in order to meet the customers' demands.
The Computex Taipei 2011 has always been one of important international exhibitions, Thermaltake Technology will once again lead its three brands: Thermaltake, Tt eSPORTS and LUXA 2 to shows individual characteristics of products, but also at this time, it will be "eSports" as a whole special booth design style, in addition to inviting Taiwan's eSPORTS team - Tt APOLLOS, Taoyuan Jets, and the Le Shan Iron Man e-Sports teams, Thermaltake Technology is also specially invited European StarCraft II champion White-Ra at Thermaltake exhibition booth, to show world's top professional gaming style.
Thermaltake Technology, in an effort to create the perfect user experience as corporate mission. May 31-June 4, at the Nangang Exhibition Hall, 4th Floor, Thermaltake booth technology on the M620 Thermaltake hope to bring you the new face of science and technology.
Another focus of activities is Tt APOLLOS Warrior, which is based on the "corporate mission" and "corporate vision" of Thermaltake, and made by Thermaltake products which include Thermaltake, Tt eSPORTS and LUXA 2 products. On the body, there has pained with Tt eSPORTS Battle Dragon totem which behalf of Thermaltake Technology in the gaming market leadership position.
About Thermaltake Computex Taipei 2011 Technology news, please refer to the following URL: http://globalevent.thermaltake.com/computex2011/
Thermaltake Technology integrity of both the forward-looking technology on display a variety of vision and strength of the product market.
Thermaltake: The Level 10 GT professional gaming chassis "received the honorable" red dot design award: product design 2011", CHASER AMD edition chassis, especially built for e-Sports gamers and DIY enthusiasts, FRIO OCK cooler, Toughpower Grand is rewarded of the "red dot design award: product design 2011", an exquisite, unique and stylish power supply for high-end gamers....etc.
Tt eSPORTS: a series of professional and high-end gaming gears, such as AZURUES MINI eSports mouse, SHOCK One eSports headset, CHALLENGER membrane keyboards....etc.
LUXA2: LUXA2 H4, an e-book holder received the "COMPUTEX Taipei design & innovation awards 2011", accessories for Apple iPad 2, like Vogue Leather Stand Case, Legerity Stand Case, Tough Case and Candy Case....etc
Press Contact:
Charlotte Chen
Brand Innovation Center - Corporate Public Relations Office / Public Relations Manager
Tel.: +886-2-8797-5788 Ext.2115
Email: Charlotte.chen@thermaltake.com.tw
For further information about Thermaltake Technology, please visit www.thermaltake.com/default.htm, or contact our customer support at 0800-266-818.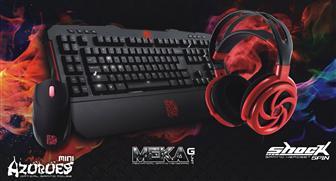 Thermaltake eSPORTS
Photo: Company