Computex 2011: Puritron announces the launch of all new IP-65 water-proof panel PC line
Press release
Puritron are proud to present this year's innovative ground-breaking design: These are of a whole new designed fanless all-in-one panel PC models, specifically intended for multi-purpose panel PC applications with stainless front bezels and are optional with complete peripherals.
Fanless innovation creates a noise-free environment and comprises of trustworthy components to substantiate reliability. Our fanless panel PC is constructed with a built-in speaker and is compliant with the IP-65 water-resistant class of protection. These slim and compact all-in-one panel PCs are configured with the newest Intel Atom processor, and are optimized to enable new connected experiences with a range of capabilities. To assure and certify the products' eminence, the PT-series models are verified with vigorous testing in a 40 degrees C chamber for up to 72 hours of burn-in testing in a space-limited application. With its adaptation to low power consumption, this allows your system to endure continuous operations while in a hostile environment. The customers can now be more than certain that they are getting a testing-assured product bringing them satisfaction day after day.
Puritron are truly grateful to have this opportunity to be a part of this prominent exhibition. Puritron International has been operating in the POS industry for 17 years. Even with the lightning-paced advancement in the market, we nevertheless remain relentless to provide the most preeminent service for our customers, at the same time, constantly innovating new products.
IP65 Fan-less Panel PC series: PT-120PFN270/150PFN270/170PFN270/190PFN270:
Ranging from 12"/15"/17"/19"
N270 ATOM CPU
IP-65 Compliant
HDD Anti-vibration
HDD Tray for Easy Installation & Maintenance
PURITRON INTERNATIONAL INC., founded in 1994, is a professional hardware solution provider for point-of-service systems and panel PCs, in addition to queuing management systems, and etc. PURITRON provides a total hardware solution in the point of service segment and we strive to become a leading POS hardware provider world-wide.
Its Computex 2011 booth is at: Nangang Hall, 4F, L0426.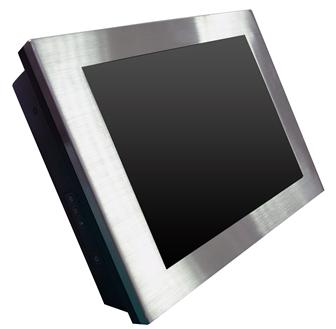 Puritron PT-120PFN
Photo: Company