CyWee to showcase new motion processing and streaming products at Computex Taipei 2011
Press release
CyWee Group Ltd, a leading provider of wireless and motion processing solutions, is set to publicize new solutions that will be featured at Computex 2011 in the Nangang Convention Center (Booth Location: 4F N1219). The event will be hosted from May 31 to June 4 in Taipei, Taiwan. CyWee will be presenting customers new solutions in both wireless streaming and motion processing.
Continuing off the successful launch and positive market reception of the Air Shuttle device, CyWee will introduce the next-generation of the real-time wireless streaming mobile accessory that has been approved by Apple's MFi (made for iPod, iPhone, and iPad) program. The Wi-Fi Dongle transmits audio and video in high definition through the 802.11n wireless standard. Delivering high definition content to any HDTV screen, the plug-and-play device will be compatible with Android, iOS, Symbian and Windows Mobile devices.
CyWee will also be unveiling the Tablet, a device that mirrors content from your mobile phone or computer. Featuring the CW680, CyWee's real-time media streaming processor, all processing is performed on the host device, and its content is streamed directly to the tablet. Video, games, apps, photos, music, and more can be streamed from computer or mobile phone to the CyWee Tablet. It works with any mobile or desktop operating system.
The company will be announcing the CyWee Evaluation Board and CyWee Software Engine.The CyWee board combined with the Engine is the most efficient and precise method to test sensor performance on CyWee MEMS solutions.
For more information regarding CyWee product offerings, please visit: http://www.cywee.com/.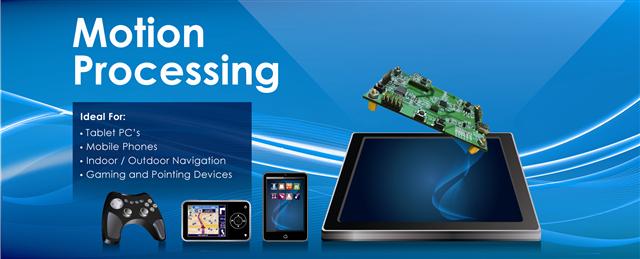 CyWee motion processing solutions
Photo: Company