Toumaz solutions make 'smart life' possible
Press release
Taipei, Taiwan, May 9, 2011 – Today people have higher expectations to live more convenient, comfortable, and preferably energy-efficient lives. Imagine while you walk out of the office, you are switching on your household air-conditioner and running the bath water in advance by tapping your cell phone, and when you get home, you just play music in your handset through DLNA wireless speakers without leaving your cell phone in a speaker-dock. You also have a control device automatically check the status of all the appliances and alert you in case of trouble no matter where you are with the auto adjustments on all the lights and electric appliances so to save the electrical bills without any hassle.
Smart life is no longer a fantasy, it already exists. Wireless sensing technologies have been widely adopted in several applications including smart energy, home entertainment, healthcare, security, etc, and your personal devices or even home can be connected, interactive, secure, and intelligent.
Wireless Sensor Network (WSN) is an embedded sensing platform with computing and communication capabilities. A large variety of industrial and personal applications are increasingly impacted by WSN technologies as people desire everything to be simple. For example, WSN with motion detectors can switch off unnecessary lighting if nobody is detected in the office and, easily be able to sense and report temperature for air conditioning or heating system for optimal ambient control and so as saving electric bill. WSN can also harvest vibration energy to power up the GPS and wireless network functionality for location tracking of containers or trucks. According to ABI Research, 2010 WSN IC shipment grew more than 300 percent over the previous year and it is expected to keep growing strongly with 2011 almost doubling 2010 shipment numbers. "Smart life is to keep daily life simple and intuitive. We believe the technology behind it is simple wireless connectivity with smart sensors, " commented Charles Lee, GM of Toumaz Asia.
"The concepts of smart life open up new and lucrative market opportunities for both existing and new use cases and devices. We will soon see low energy wireless sensors to be incorporated everywhere from consumer electronics like connected multimedia entertainment, ambient monitoring, Smart Meter, remote controls to more complex mobile healthcare," Lee continued. "Most importantly, the money spends on having a smart wireless sensor enabled system can at last justify its existence by saving electric bill, insurance charge or medical expanse for its users. On the other hand, adding wireless connectivity into home stereo is not at extremely high cost, but it will give the end user much more appealing experience because it makes the user's life much easier and enjoyable."
In healthcare and wellness industry, the trend has shifted from reactive to proactive. Increased adoption of connected technologies is enabling mobile health to a much wider scale. ABI Research estimates that the market for wearable wireless sensors is set to grow to more than 400 million devices by 2014. Toumaz's market leading licensable smart sensor interface and transceiver platform, Sensium, is designed for non-intrusive, real-time wireless monitoring systems and applications. Sensium offers the potential to transform medical monitoring and reduce the cost of healthcare by wirelessly connecting individuals to healthcare providers simply, affordably and unobtrusively.
Smart Meter is another good example of smart life. With the rise of environmental awareness and increasing energy costs, IDC Energy Insights estimated accumulated shipment of Smart Meter between 2010 and 2015 will reach 460 million units with yearly growth compound rate of 13%. Foreseeing the revolution of wireless sensing and interactions between the digital and real world, Toumaz also invests its ultra low power expertise in designing silicon devices for wireless connectivity and internet-connected consumer products. XENIF, all-in-one internet connected and broadcast audio SoC, and TELRAN, recently launched ultra-low energy wireless SoC, bring in low cost audio rich WiFi connected platform and low power consumption wireless link to all sort of sensors, which meet the needs of a variety of connected products and systems - highly integrated, easy-to-use, flexible and energy-efficient.
For connected entertainment, XENIF is a versatile single chip solution that brings Wi-Fi, DAB, FM and DTV audio altogether. It is capable of running Linux and processing Wi-Fi baseband and DAB/FM broadcast demodulation simultaneously. XENIF comes with a completed peripheral set including a full audio sub-system, 5.1ch audio capability, multistandard demodulation (i.e. FM/DAB/ISDB-T/T-DMB/DVB-H/DVB-T/ATSC), USB and SD card as well as LCD display interface. Manufacturers will be able to benefit from XENIF's flexibility and high integration to create innovative "Connected" home entertainment system, electrical appliances, multimedia player and DLNA wireless speakers.
TZ1053 TELRAN, an ultra-low energy (ULE) wireless single chip radio, is a complete ultra-low power radio modem comprising transceiver, media access controller (MAC) and an 8051 sub-1 GHz compatible microprocessor consuming a maximum of 4mW from a lowest 1.08V voltage supply. TELRAN is an easy-to-use and energy-efficient solution for wireless sensor networks, green energy solutions, Smart Meter, environmental monitoring, and RF remote control for TV, air conditioner, lighting system, security system, 3D TV glasses etc.
"Toumaz is long pioneering low cost, ultra-low power wireless telemetry technologies, and we strive to offer the market with the most cost-effective Wi-Fi connected solutions, the critical enablers, for new products and services in a range of commercial and personal sectors." said Lee. "Toumaz is taking a step forward towards the future of the connected world with the focus of ultra low energy wireless link." During 2011 Computex (31 May – 4 June), Toumaz will be demonstrating its latest wireless technologies and potential applications and share its outlook on smart life in Grand Hyatt Taipei Room 1148.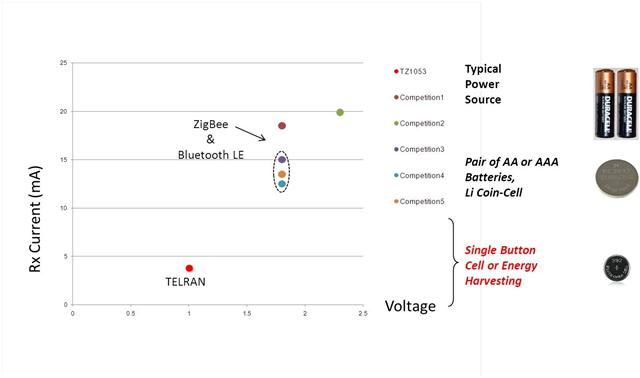 Toumaz ultra-low energy solution for longer battery life, lower costs and smaller form factor
Photo: Company