A presentation recently prepared for Taiwan's Ministry of Economic Affairs (MOEA) had been made available for publication. The presentation explains how Taiwan can be a springboard for companies looking to invest in China, as cross strait relations are becoming closer since the implementation of ECFA (Economy Cooperation Framework Agreement).
For readers interested in accessing the original presentation, a link is provided at the end of the article.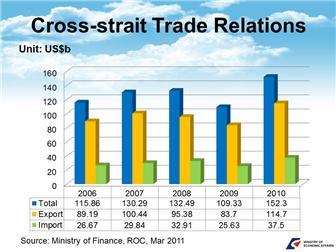 - Over the past 20 years, Taiwan has invested a total of more than US$100b in China, and has gathered a great deal of momentum in terms of cross-strait trade.
- The majority of the upstream materials needed by Taiwan-based firms are also supplied by Taiwan, with the result that Taiwan has a considerable trade account with China.
- Taiwan-based firms are playing a key role in China's increasingly important domestic markets, aided by the Economic Cooperation Framework Agreement (ECFA) between China and Taiwan.
- International companies can gain access to lucrative opportunities in China via investment in Taiwan.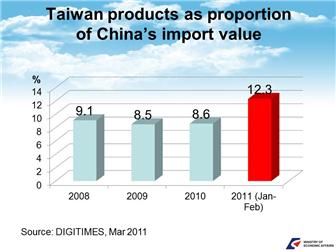 - The ECFA trade agreement came into effect in January 2011.
- Prior to ECFA, the share of China's imports accounted for by Taiwanese products had fallen year on year. In the two months after ECFA took effect, this share rebounded rapidly to 12.3%.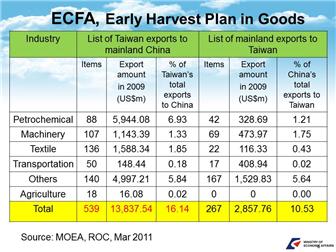 - Taiwan included a total of 539 items from Taiwan in its "early harvest list" for the first phase of ECFA.
- These products will benefit from preferential tax rates and tariffs, and are also areas which foreign funds should give particular consideration to when investing in Taiwan.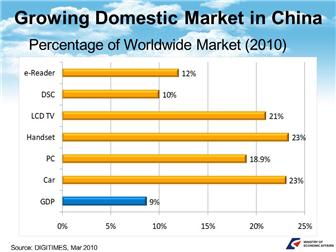 - Investigations by Digitimes Research reveal that while China accounts for 9% of global GDP, its contribution to major electronic products exceeds this figure by a considerable margin.
- China sold a total of 18.06m cars in 2010, accounting for 23% of the global total.
- China also accounted for 21% of LCD TV sales and 23% of mobile phone sales worldwide.
- This demonstrates that the purchasing power of the China market goes beyond the numbers evident from its GDP alone.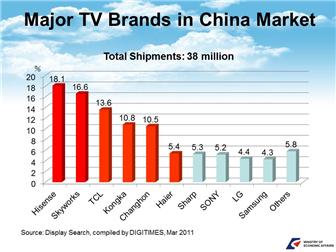 - Although the China market is in many ways very attractive, it is also the world's most difficult market to penetrate.
- As China's rural population remains vast, and individual provincial governments continue to provide support to certain designated industries, there are many hidden obstacles to moving into the China market.
- Investigations show that China's LCD TV market was as large as 38m TV sets in 2010; however, the top six brands were all homegrown companies.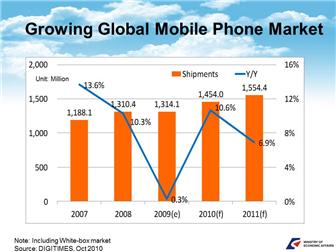 - The global mobile phone market reached 1.454b handsets in 2010, representing 10.6% growth on 2009; taking a moderate outlook, the 2011 market is projected to reach 1.554 handsets, equivalent to an annual growth rate of 6.9%.
- 2010 shipments exceeded forecasts by more than 60m handsets, mainly due to the larger-than-expected surge in the popularity of smartphones and burgeoning demand in emerging markets.
- While the 2011 annual growth rate for mobile phone shipments will still be higher than in 2009, it will still be slightly lower than in other recent years, mainly because the market is gradually coming to maturity. However, the warmer global economic climate and stronger growth figures mean that the handset replacement will likely be close to that of 2010; moreover, if the number of new users added stays above 600m, there will still be a good chance that the market will grow to more than 1.5b handsets.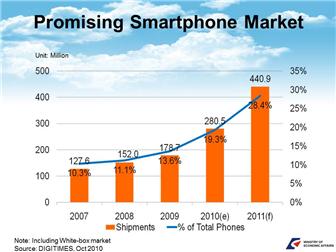 - The smartphone market is predicted to reach around 440m handsets in 2011, accounting for 28.4% of the mobile phone market as a whole. There are four main reasons for this:
1. Having passed through several years of "market education", consumers are now more receptive to the idea of smartphones, and demand is likely to flourish in 2011.
2. While smartphone users' heavy bandwidth consumption can cause network congestion despite telecom carriers' best efforts to respond to customer complaints and carry out network upgrades, carriers are nevertheless predicted to continue to make smartphones the focus of their marketing activities, due to their consumer appeal and the high revenue contribution of smartphone users.
3. The launch of new OS platforms such as Windows Phone 7 (WP7) and MeeGo, and in particular Microsoft and Nokia's joint attempt to revitalize their smartphone businesses, will inevitably involve the commitment of huge resources to marketing activities, further heating up the smartphone market.
4. The budget smartphone solutions launched by chip vendors are projected to become more mature in 2011, reducing the purchase threshold for consumers and further stimulating demand.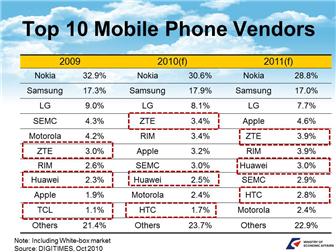 - Global mobile phone brand rankings were dramatically reshuffled in 2010, with Nokia's market share sliding to the brink of 30% and LG's market also dropping substantially.
- Besides smartphones, the rapid rise of China and Taiwan-based firms is also a major factor.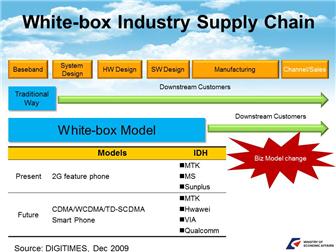 - The strong sales figures for white box handsets are intimately connected to the business models involved.
- European and North American baseband chip suppliers previously supplied only the chips themselves, and did not offer refer solutions for either hardware or software design.
- The Taiwan-based firms Mediatek (MTK) and Morning Star have both used this model to achieve success.
- The component channel firms in the background also played an extremely important role.
- Many emerging nations are keen to work with Taiwan to set up manufacturing systems for white box handsets.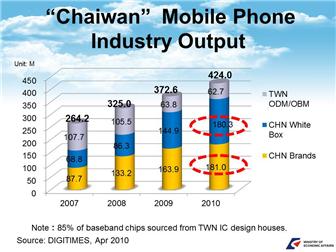 - Total shipments for mobile phone manufacturers in the Greater China region in 2010 are estimated to be 424m handsets.
- Within this figure, white box handsets sold in China accounted for around 180m units, while domestic and overseas sales for well-known China-based brands totaled a further 180m units.
- While the number of handsets made in Taiwan has fallen, Taiwan's industrial ecosystem is extremely adept at manufacturing a variety of components, turning Taiwan into a veritable arsenal of components.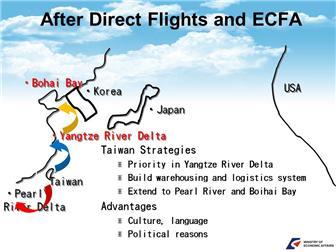 - Trade ties between Taiwan and China are already close, while the ECFA agreement which came into force in 2011 brings enormous potential opportunities for further trade.
- The Pearl River Delta (PRD) region of South China has had excellent logistical systems for some time.
- Taiwan is projected to strengthen its cooperation with provinces in the PRD region, as well as eventually extending the reach of these logistical services systems to the Bohai Bay.
- Taiwan has concrete cultural, linguistic and political advantages in terms of its trade with China.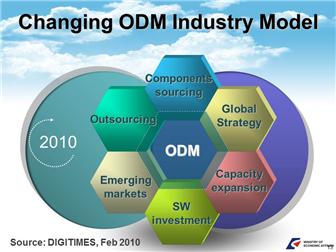 - The ICT industry's business models are undergoing a period of intense change on a global basis, with globalization already an irresistible trend.
- As the industry has become increasingly concentrated in Asia, component demand will also be stronger in the region; for European and North American companies, this means that establishing comprehensive systems to service companies in the Asia region is a necessity.
- Outsourcing is another important trend. The Japanese TV giants Sony and Toshiba already outsource upwards of 70% of production, with the recent earthquake only likely to accelerate this manufacturing exodus.
- The production of notebook computer products from major global firms such as Dell, HP and Lenovo, as well as Apple's iPad, have all been contracted out to firms in the Asia Pacific region, principally in Taiwan.
- In addition to winning ODM/OEM orders from Europe, North America and Japan, another major challenge for firms in the Asia Pacific region is the issue of how to collaborate with channel firms in countries like Turkey, Russia, India and Brazil to bring in new products quickly.
- It is undeniable that the value of software is continually increasingly, and this is also a challenge facing companies in the Asia Pacific region as a whole.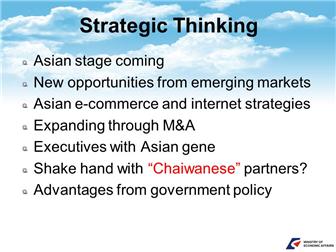 - It is widely accepted that we are on the verge of an "Asia Pacific century".
- More and more commercial opportunities will come from emerging markets rather than from Europe, North America and Japan.
- Finding out how to sell to these emerging markets will require us to gain a new understanding of new environments such as the Internet.
- From an Asian perspective, companies from Western nations should employ more persons of Asia Pacific origin, in order to help them truly understand the region's industries and markets.
- Taiwanese people understand China better than anyone, so much so that the Koreans have dubbed those Taiwanese who best understand China the "Chaiwanese".
- It goes without saying that the governments of Asia Pacific countries are all extremely proactive about developing cutting-edge technology industries, and Taiwan's past experiences have also been driven by more than a little political strategy.
- This sort of strategic thinking is extremely important for firms around the world that wish to compete in the Asia Pacific market.
- Whichever way you look at the Asia Pacific industry, Taiwan's track record of success has proven time and time again that Taiwan is the best choice.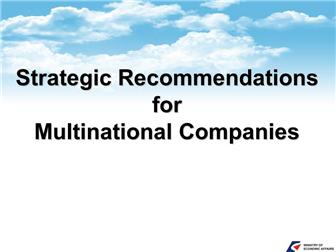 - Taiwan has invested more than US$100b in China, with annual exports to China worth in excess of US$100b.
- Statistics show that 40% of all Taiwan's exports are destined for China.
- Taiwan will enjoy even greater opportunities to share in the rapidly growing Chinese market following the signing of ECFA.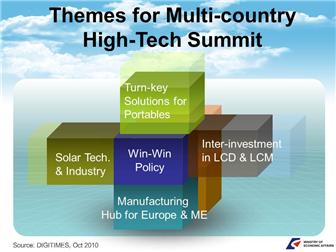 - Taiwan has already become a model for emerging nations wishing to develop their technology industries.
- However, Taiwan has limited resources and is ready and willing to share its experience and commercial opportunities with emerging nations around the world.
- In this win-win situation, the two parties can establish long-term mechanisms for collaboration, working for a closer partnership with each passing year.
- We suggest that the two parties start discussions on the possibilities for collaboration with the LCD, mobile phone and green energy industries.
- For example, Taiwan could invite key companies in a country to invest in LCDs, while Taiwan-based firms invest in LCMs in the country.
- Taiwan-based firms have complete manufacturing systems for notebook computers, tablet devices and mobile phones, and are willing to engage in consultation and discussion regarding potential collaborations.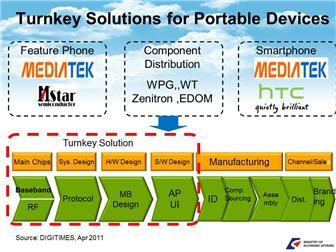 - Taking the mobile phone industry as an example, Taiwan-based firms play a critical role in China's white box handset industry.
- More than 80% of baseband chips come from Taiwan, with Taiwan-based firms also providing assistance for component distribution and logistical systems.
- We recommend that a country discuss possible ways to establish partnerships with Taiwan, as well as to share in the opportunities presented by emerging markets.
- Participating companies will benefit from added value in areas from manufacturing to marketing.
- The smartphones of the future and the iPad are assembled by Taiwan-based OEMs.
- The Taiwan-based firms Mediatek (MTK) and HTC both provide excellent smartphone solutions.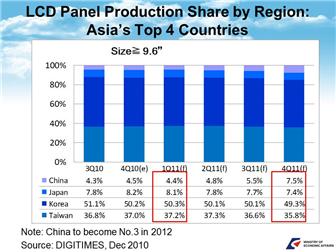 - Competition in the display panel industry is intensifying, with even greater financial resources and technical expertise required for investment in next-generation panels.
- Taiwan has played a pivotal role in the display panel industry since its inception.
- Taiwan-based firms are responding to demand from emerging markets by seeking out more partners in emerging markets.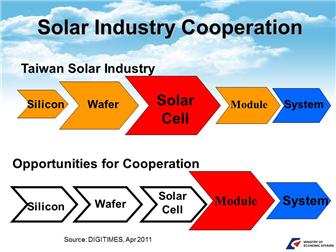 - Even greater importance will be attached to solar PV and other green energy industries following the Japanese earthquake.
- Taiwan already enjoyed an outstanding reputation in the solar cell sector.
- Europe's large solar power stations have all selected Taiwanese products.
- We recommend that Taiwanese firms provide solar cells and work with local manufacturers on solar modules.
- The two parties will of course discuss the possibilities for upstream/downstream integration, as well as joint R&D for silicon and other materials and equipment.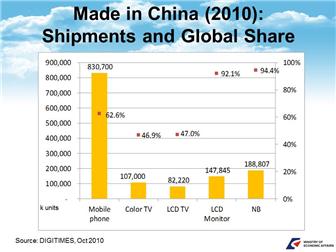 - China is not just the world's largest market; the concentration of manufacturing in China also means that there is strong demand in China for upstream components for products including mobile phones, TVs and notebook computers.
- Taiwan-based firms are the powerhouses in the middle, but increasing costs in China will also accelerate the pace of globalization for Taiwanese companies.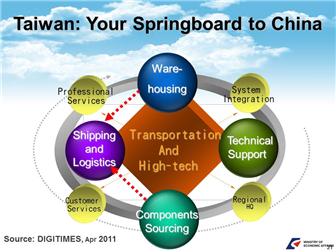 - Taiwan's exports to China have shot up since the signing of ECFA.
- Taiwanese firms have already invested hundreds of billions of US dollars in China to build a totally competitive industrial presence.
- There are already more than 300 direct flights per week between Taiwan and China.
- Taiwan will be a logistical hub for flights to every province in China in the future.
- Multinational firms can harness the power of Taiwan's technology industries, as well as Taiwan's logistic systems to share in the rapidly growing China market.
To download the original powerpoint presentation, click here.