Arbor technology has unveiled its new M1040, a portable medical tablet PC aiming for mobile clinical assistant applications.
The M1040 is built with an Intel Atom N450 processor with ICH8M chipset, a 10.4-inch touch panel that supports both resistive touch and electromagnetic digitizer and supports DDR2 667 memory up to 2GB.
The device also features slim appearance with only 1.3kg in weight and 26mm in thickness, and with its slip-free grip design, the M1040 is easy to carry for operation.
The M1040 offers two options for storage - an 120GB SATA hard drive or a 32GB solid state drive (SSD), and is integrated with data retrieving devices such as 2D barcode scanner, smart card reader, RFID reader and 2 CMOS cameras. It features communication modules for Bluetooth, Ethernet, Wi-Fi and 3.75G HSUPA.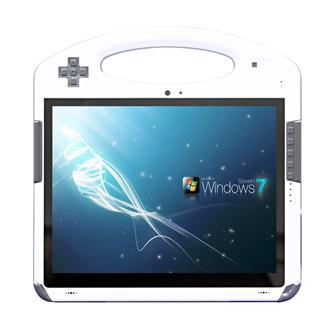 Arbor M1040 medical tablet PC
Photo: Company