New Micron SSD uses 25nm NAND with capacities up to 512GB
Press release; Jessie Shen, DIGITIMES
Micron Technology has unveiled a new portfolio of solid-state drives (SSD) for the fast-growing flash-based notebook market. Dubbed RealSSD C400, the new series is the first SSD product line to incorporate Micron's 25nm NAND flash technology, creating a broad portfolio of capacities ranging from 64GB to 512GB. The drives will be available in 1.8-inch and 2.5-inch form factors.
As with its predecessor, the new RealSSD C400 also supports the SATA 6Gb/s interface, which opens up the data path between the host processor and the SSD delivering improved overall system responsiveness including faster boot times and speedier application loads. The new drives reach read speeds up to 415MB/s, which is 17% faster than Micron's previous generation drives. With write performance varying by capacity, the new 512GB drive achieves up to 260MB/s write speeds, which is more than 20% faster than the fastest C300 drive.
Micron said it is currently working with notebook manufacturers to qualify the new RealSSD drives under the C400 product name. With samples of the RealSSD C400 drives available now, the company expects mass production to begin in February.
Bringing the drives to business customers and consumers, Crucial, a division of Micron, will begin selling the portfolio under the name, m4 SSD. The Crucial m4 SSD product line is expected to be available online and through select global channel partners in the first quarter of 2011.
"SSDs are bringing excitement back into personal computing," said Dean Klein, vice president of memory system development at Micron. "Micron is accelerating this enthusiasm with our new RealSSD portfolio, providing even greater performance and higher capacities than our previous generation SSDs."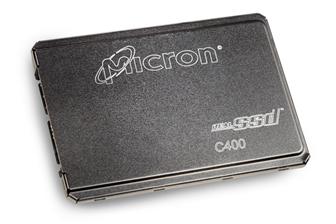 Micron RealSSD C400
Photo: Company