Canon USA introduces first installation LCOS projector with DICOM simulation mode for use in medical facilities
Press release, November 29; Yvonne Yu, DIGITIMES
Canon USA, a leader in digital imaging, today introduced the REALiS WUX4000 D Installation LCOS projector, the company's first high-resolution installation projector for the medical education market. This new projector includes a DICOM simulation mode that simulates the results of devices compliant with the Digital Imaging and Communications in Medicine (DICOM) Part 14 standardized display function for display of grayscale images. DICOM is a global information-technology standard that is used in virtually all hospitals to ensure the interoperability of systems used to produce, store, display, retrieve or print medical images.
"No matter the type of medical images being displayed, the combination of Canon's leading imaging technologies in the new REALiS WUX4000 D coupled with DICOM simulation mode brings medical educators a precise, practical and easy-to-use display option for lecture or classroom settings," said Yuichi Ishizuka, executive VP and general manager, consumer imaging group, Canon USA.
The inclusion of the DICOM Simulation mode, which offers 21 different levels of grayscale gradation, and Canon's fourth-generation proprietary AISYS-enhanced LCOS optical system helps medical educators to clearly display detailed and intricate images to larger audiences without compromising image accuracy. The REALiS WUX4000 D Installation LCOS projector also offers a choice of three optional Genuine Canon high-resolution interchangeable lenses for different throw distances and projection screen sizes and features a motorized lens shift, zoom and focus for improved end-user operability.
The Canon REALiS WUX4000 D Installation LCOS projector delivers WUXGA-resolution (1920×1200) widescreen 16:10 aspect ratio images at 4000 lumens and includes a built-in Canon Color-Correction IC, which together with the AISYS-enhanced LCOS system, provides highly accurate color reproduction and precision luminosity adjustment without affecting the display of neighboring colors. In addition, the Canon REALiS WUX4000 D Installation LCOS projector's lamp and air filter can be replaced from the side of the projector, and its PS optical filter element can be replaced from the top of the unit for added convenience and economy.
Multimedia device compatibility
Industry-standard digital and analog terminals and connectors ensure the Canon REALiS WUX4000 D Installation LCOS projector's compatibility with a wide range of video and computer devices. Signal inputs include HDMI version 1.3, DVI-D and analog PC terminals, two audio inputs, and one audio output for external amplification and speakers. A built-in five-watt speaker is also included, while a convenient user memory feature stores up to ten different setting combinations based on the content being shown. Five memory settings are for computer sources, such as DVI-D, analog PC, and HDMI (PC) and the other five settings are for video sources, such as component and HDMI (video). A network-ready RJ-45 port allows for authorized users to manage and control multiple projectors from any PC on the network. An RS-232 serial connection allows for monitoring the projector locally through a third-party control system and a hand-held remote control enables users to control four WUX4000 D projectors individually or simultaneously. Lens shift and gamma control buttons are also included on the remote control.
The new Canon REALiS WUX4000 D Installation LCOS projector is scheduled to be available in March 2011, for a manufacturer's suggested retail price (MSRP) of US$9,999. It will be backed by Canon USA's three-year limited warranty and its exclusive projector protection program (Triple P). Triple P is a free service program that provides a loaner projector of equal or greater value in the event that a qualifying unit is in need of repair. Triple P is available on all Canon projector models during the three-year Canon USA limited warranty period.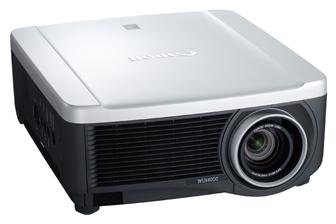 Canon REALiS WUX4000 D Installation LCOS projector
Photo: Company