LCD panel maker AU Optronics (AUO) has introduced a 14-inch solar-powered touch keyboard solution for notebook. The thickness of the solar module used in the solution is reduced to 2.1mm. The solar module is built within the notebook's cover and keyboard panel to absorb both sunlight and electric light, and lowered the use of electric power by 20%.
The specially designed transparent touch keyboard enables users to readily move about their fingers and control the images for the enjoyment of trendy technology, the company said.
This solar-powered touch keyboard notebook solution will be showcased on November 10 at the upcoming FPD International 2010 during November 10-12 in Chiba, Japan.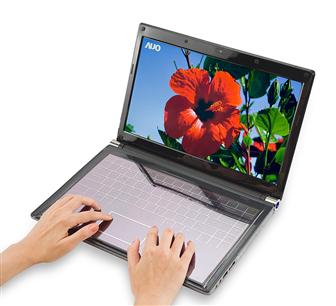 AUO 14-inch solar-power touch keyboard notebook solution
Photo: Company