MSI launches a new GeForce GTX 460-based graphics card
Press release, October 7; Joseph Tsai, DIGITIMES
Micro-Star International (MSI) has introduced its latest graphics card, the N460GTX HAWK Talon Attack, featuring overclocking ability, 7+1 phase power design and the Twin Frozr II thermal design.
In addition to the features from its former design, the N460GTX HAWK, the new model is equipped with 0.4ns GDDR5 super-high speed graphics memory and has also a default GPU and memory clock speeds of 810MHz and 3900MHz, respectively.
The model also performs better than Nvidia's GeForce GTX 470 reference design, MSI claimed.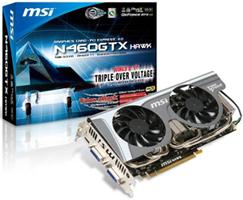 MSI N460GTX HAWK Talon Attack graphics card
Photo: Company