Computex 2010: AAEON releases slim 10.2-inch rugged tablet computer
Press release, staff reporter, DIGITIMES, Taipei
Industrial PC manufacturer AAEON has released a new powerful Rugged Tablet Computer (RTC), the RTC-1000AS, which is ideal for users who need to work in harsh/severe environments. The device features a 10.2-inch sunlight readable LCD panel with 500 nits brightness and is slimmer in design compared to the company's previous rugged tablet PCs.
The RTC-1000AS is equipped with the Intel Atom N270 1.6 GHz processor and includes one 200-pin DDR II SODIMM socket (up to 2GB). The unit offers flexible I/O for storage, such as two USB 2.0, one Mini USB, one RS-232, PCMCIA, two internal Mini Card, and one CompactFlash Slot for versatile expansion. The system memory is optional based on user needs.
The RTC-1000AS is sealed to IP-65 specifications. It is built from the ground up to withstand water, dust, vibration and drops, as well as the harsh environments the device needs to be utilized in. This model deploys a 10.2-inch WSVGA (1024x600) 16:9 TFT LCD display with LED backlighting that can be viewed at wide angles and is readable in bright sunlight. The display also features a patented AOT (Advanced Optibond Technology) touch screen. This advanced technology is for impact protection that is often required by rugged applications, said Howard Hu, product manager of AAEON's R&D Center. In addition, numeric keypad and programmable function keys on the front panel are all user friendly features of the RTC-1000AS, Howard added.
The optional docking station and vehicle chargers can keep the system up and running for multiple operating shifts. For network communication, the RTC-1000AS uses one 10/100/1000Base-TX Ethernet and a Wireless LAN IEEE 802.11b/g plus Bluetooth 2.0 Class 1 module to provide fast and convenient connections. For mobile application power users, it could also be upgraded to a bundled 3G module kit and/or GPS kit for more convenience. Another valuable feature of the RTC-1000AS is the gross weight, which is only 3.9lb (about 1.8kg). All RTC units can be utilized by various professionals, including hospital practitioners, express delivery staff, and users who simply need a handheld computer.
The RTC-1000AS offers high performance with low power consumption that is perfect for areas in the emergency medical services, public safety, transportation, marine, and aviation to name a few.
The device will be on display at Computex Taipei 2010, along with other AAEON products, in Hall 1, Booth A820a/A824/A819/A823.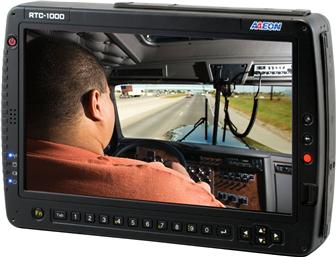 The AAEON RTC-1000AS rugged tablet computer (RTC)
Photo: Company