(May 31, 2010) Aeon Lighting Technology (ALT), a leading global manufacturer of high power LED lighting products, will showcase its 100% mercury-free, 90% energy-saving high power LED lighting product series in Photonics Festival in Taiwan, the biggest integrated photonics event in Asia, from June 9 to 11, 2010. In addition to showcasing its cutting-edge LED lighting technologies, ALT has a bigger dream - to pioneer the "Green Lighting Revolution," aiming to arouse public awareness about the danger of mercury, which is often underrated. The participation in LED Lighting Taiwan is expected to contribute to next wave of sales growth for ALT, following the fruitful results of exhibiting in Lighting Japan, Light+Building 2010 in Frankfurt, and Lightfair International 2010 in Las Vegas.
"Governments around the globe are banning the use of incandescent lamps as the policy to solve energy-shortage problem. However, what's more threatening to the earth are the mercury lamps and florescent lights, which all contain mercury, extremely harmful to the environment and dangerous for health," said James Liang, President and CEO of Aeon Lighting Technology. "The mission of ALT is to pioneer the 'Green Lighting Revolution' by transforming the world into using 100% mercury-free, high-quality and affordable LED lighting products. With the most advanced technology and corporate commitment of environmental protection, we are confident that ALT will be leading the green industry in the world."
LED Lighting Taiwan 2010 during Photonics Festival will be held from June 9 to 11, 2010 in the Exhibition Hall 1 of Taipei World Trade Center. The booth of ALT will be located on the second floor at H815, and product demo service will be available onsite. For more information, please visit ALT website.
Date: June 9-11, 2010
Time: 10:00-17:30
Venue: Exhibition Hall 1, Taipei World Trade Center
Booth No.: H815 (2nd floor)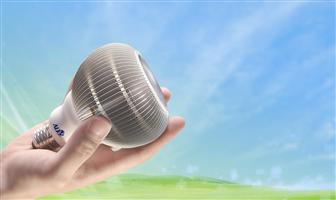 ALT LED light bulb - Apollo BR30
Photo: Company