Computex 2010: Gigabyte notebooks surprise yet again
Press release, staff reporter, DIGITIMES, Taipei
Following the successful launch of several innovative 10.1-inch netbook series in 2009, Gigabyte continued to produce unique product concepts and innovative designs at CeBIT in Europe earlier this year and the company is now gearing up to amaze the market at Computex Taipei 2010. Gigabyte will be showcasing a wide array of notebook products, ranging from the Intel Pine Trail powered 10.1-inch netbook series to its Intel Calpella powered notebook series, to even more powerful and innovative desktop replacement solutions. The company will also highlight its netbooks, ultra-thins, and other notebook models at the Computex show.
2-in-1 dual function notebook series
Leading the charge for Gigabyte's notebook lineup is the Gigabyte M1125 notebook, which the company describes as having no match anywhere in the world. The company stated that the M1125 is the world's first 11.6-inch tablet notebook bundled with a docking station that features an optical drive integrated into the station. The M1125 also supports the latest USB 3.0 technology and is based on the Intel Calpella platform.
Also on display at Computex will be the 14-inch M1405 notebook, which Gigabyte says reflects its continued efforts to combine great design and looks with a powerful computing experience. The M1405 comes in dark blue, wine red, bright gold and silver. What sets it apart though is its powerful docking station with an Nvidia GT220 graphics card that delivers desktop graphics performance. The docking station also expands the connectivity of the M1405 to an extra two displays, which can all be used simultaneously, providing a three-screen solution for power users. The M1405's optical disk drive can be easily exchanged for a second battery, extending battery life up to 10 hours.
Gigabyte is also introducing its 15.6-inch i1520 notebook solution, which is powered by the latest Intel Calpella platform. The i1520 is scalable through a docking solution and offers greater security through its Always Aware HDD protection technology, making it an ideal solution for business needs.
Netbook series
Gigabyte will exhibit three 10.1-inch Pine Trail-M platform netbooks, the T1000, M1000 and Q1000. The company said the T1000 combines a rotating multi-touch screen with the aesthetic appeal of its gold textured surfaces and chiclet keyboard. The M1000 can be supported by a docking station, making it both a mobile device and a workstation, while the Q1000 brings simplicity of design for those that want a simple yet functional computer. Gigabyte stressed that its customers have a wide variety of choice and better options available to them thanks to these three unique netbooks.
Notebook series
The notebook series from Gigabyte combines both commercial and entertainment functionality. Gigabyte is exhibiting a variety of models based on the Intel Calpella platform, with sizes ranging from the 14-inch Q1447 to the 15.6-inch Q1585 notebook. These notebooks incorporate Nvidia graphics as well as an HDMI interface and cater to users looking for a high quality multimedia experience, whether it is for business or pleasure. Moreover, the Q1585 features 3D cinema and provides an optimal gaming experience.
Gigabyte remains committed to R&D, and is constantly working on new, exciting and innovative ideas to meet the needs of mobile users. The company stated it will continue its endeavor to develop products that suit both business and recreational lifestyles. Gigabyte is located at Hall-1, Booth D002.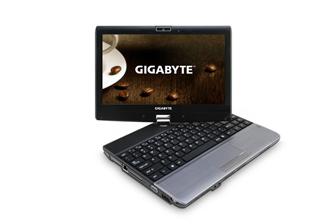 Gigabyte rotating multi-touch screen notebook
Photo: Company