Renesas adds 16KB low-cost versions to expand SH/Tiny flash microcontrollers
Press release, April 23; Jessie Shen, DIGITIMES
Renesas Technology America has added 16KB flash versions to its line-up of low pin count SH/Tiny flash microcontrollers. The lower memory versions provide a more flexible and cost-effective solution with many advantages over digital signal processors (DSPs), according to the company.
The SH/Tiny flash MCU family already includes pin-compatible 32KB, 64KB and 128KB derivatives which have 8KB RAM. The new 16KB version includes 4KB of RAM, making it the lowest cost flash-based SuperH device in the portfolio.
Renesas' SH/Tiny flash MCU family including the new 16KB version is available in 10×10mm 64LQFP, 14×14mm 64QFP and 10×10mm 48LQFP, and the ultra-tiny 8×8mm 64VQFN and 7×7mm 52VQFN packages, the company said.
The Renesas SH/Tiny lineup has been developed for white goods applications such as induction cookers, washing machines, vacuum cleaner motor controllers and inverters such as in pumps, fans and air-conditioners.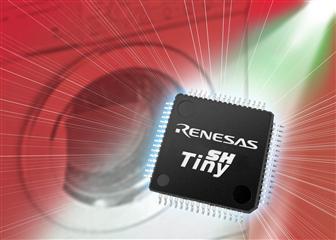 Renesas SH/Tiny flash MCU for white goods
Photo: Company