Acer America has introduced two new notebook PC platforms - TravelMate 6593 and TravelMate 6493 - designed for the mobile professional. The new TravelMate notebook series are available now in the US commercial channel.
The TravelMate 6593 and TravelMate 6493 are equipped with Intel Centrino 2 with vPro technology and utilize the Intel integrated 3D graphics media accelerator X4500MHD for graphic performance and video processing.
Both the 14.1-inch TravelMate 6493 and the 15.4-inch TravelMate 6593 offer WXGA high-brightness TFT LCD panels with 1280 x 800 pixel resolution, supporting simultaneous multi-window viewing via Acer GridVista, a business tool to accommodate up to eight display windows on one screen at once.
The notebook series integrates the Acer MediaBay hot-swappable solution that offers a choice of an extra hard disk, a second battery or an optical drive with either a DVD-Super Multi double-layer drive or DVD/CD-RW combo. The TravelMate 6593 and TravelMate 6493 can rely on up to 4 GB of DDR3 800/1033 MHz memory.
For videoconference needs, the notebooks come with Acer Video Conference solution-including the Acer Crystal Eye webcam and Acer Video Conference Manager software. Added security features include Acer Bio-Protection digital imprint reading solution and Acer FingerLaunch, which offers a secure way to launch programs or authenticated documents.
For added expansion, the TravelMate 6593 and TravelMate 6493 notebook PCs can be incorporated with Acer ezDock II and ezDock II+ docking stations. The one-size-fits-all commercial docking stations are designed to support all TravelMate form factors and models. The commercial docking stations feature a plug-n-play solution allowing connection of multiple devices in one operation and the ability to dock TravelMate notebooks without having to reboot.
TravelMate 6593
Specifications
Intel Centrino 2 Processor with vPro Technology
Intel Core2 Duo Processor T9500 (6MB L2 Cache | 2.53 GHz | 1066MHz FSB)
15.4" WXGA Acer CrystalBrite TFT LCD (1280 x 800)
4GB DDR3 1066MHz dual channel memory
Integrated Intel GMA 4500 MHD
250GB 7200RPM SATA hard drive
DVD-Super Multi double-layer drive
5-in-1 digital media card reader
802.11a/b/g/Draft-N Wi-Fi Certified
Acer Crystal Eye eebcam
Windows Vista Business
MSRP US$1499
Source: Company, compiled by Digitimes, January 2009
TravelMate 6493
Specifications
Intel Centrino 2 processor with vPro Technology
Intel Core 2 Duo processor T8400 (3MB L2 Cache | 2.53 GHz | 1066MHz FSB)
14.1" WXGA Acer CrystalBrite TFT LCD (1280 x 800)
3GB DDR3 1066MHz dual channel memory
Integrated Intel GMA 4500 MHD
250GB 7200RPM SATA hard drive
DVD-Super Multi double-layer drive
5-in-1 digital media card reader
802.11a/b/g/Draft-N Wi-Fi Certified
Acer Crystal Eye webcam
Windows Vista Business
MSRP US$1,099-1,299
Source: Company, compiled by Digitimes, January 2009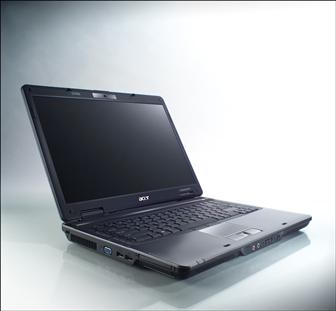 Acer TravelMate 6593
Photo: Company