Asustek Computer unveiled a new lineup of products for showcase at CES 2009 including new Eee family members and netbooks, and own-brand notebooks, motherboards, desktop PCs and audio cards.
Products on show include the Eee PC S101 and S101H netbooks, the Eee Stick – a Plug and Play full motion wireless gaming controller for the PC, and the Eee Box – a compact, one-liter-sized PC. Asustek is also showcasing its Eee Top all-in-one touch screen computer, as well as latest Eee products including the Eee Keyboard and touch screen-based tablet style netbooks, the Eee PC T91 and T101H.
The Eee Keyboard can work as a fully-functional PC as well as a wireless connection hub for multimedia devices to utilize any monitor or TV as a viewing platform. according to Asustek.
Asustek's N81Vp and N51Tp multimedia notebooks are equipped with an ATI Mobility Radeon HD 4600-series GPU, and utilize technologies including Super Hybrid Engine (SHE), which automatically allocates power to help preserve battery life by up to 35%; Express Gate, an operating system that allows users to access their most commonly-used programs in 8 seconds; and SmartLogon, which recognizes users' facial features and logs them on their PC without requiring any manual key input, according to Asustek.
Asustek's new S121 notebook features Intel's Atom Zxx platform (Menlow) equipped with a 12.1-inch LED backlight display and hard disk drive storage options up to 250GB.
The W90 multimedia notebook is powered by the dual-GPU ATI Mobility Radeon HD 4870 X2, or a choice of the ATI Mobility Radeon HD 3850 X2 or Nvidia GeForce 9800M GS GPUs and is complemented by a Full HD-based, 18.4-inch display with a 16:9 aspect ratio, highlighted Asustek.
Asustek's ROG Rampage II Extreme motherboard incorporates the latest Intel Core i7 platform for enthusiasts.
Meanwhile, the P4-P5N9300 barebone system is designed with a small footprint and features support for the latest graphics technologies, added Asustek.
Asustek's new M4 series motherboards support AMD processors and feature an 8-phase power design to fully complement next-generation processors, claimed Asustek.
Finally, Asustek is also showcasing its Xonar HDAV1.3 Deluxe audio card featuring Protected Audio Playback Systems (PAPS) and full Advanced Access Content System (AACS) certification for non-down-sampled Blu-ray audio.

The new Eee family members including Eee PC T91, Eee Top and Eee Keyboard
Photo: Company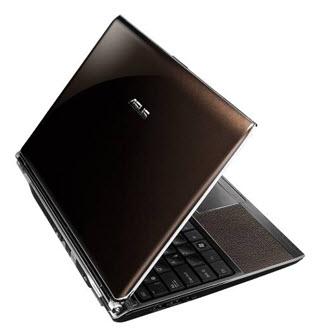 Asustek S121 notebook featuring Intel's Atom (Menlow) platform and 12-inch display
Photo: Company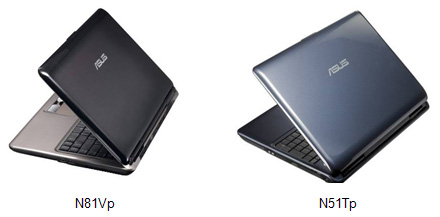 Asustek N81Vp and N51Tp notebooks
Photo: Company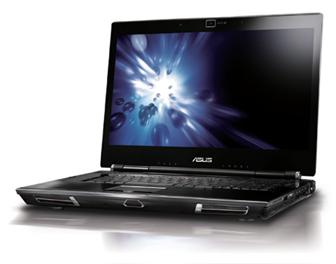 Asustek W90 multimedia notebook
Photo: Company