MSI has announced the U115 Hybrid netbook that is capable of operating both a solid state drive (SSD) and hard drive simultaneously.
The U115 Hybrid uses an SSD to run Windows while storing files on its hard disk drive.
To help extend battery life, hybrid storage technology can temporarily disconnect the hard drive and storing all files on the SSD.
The netbook features Intel's Menlow platform with an Atom processor and 10-inch widescreen LCD display and LED backlight.
MSI U115 Hybrid netbook specifications

Item

Detail

Processor

Intel Atom Z530 processor

Operation System

Windows XP Home

Chipset

Intel Poulsbo US15W

Memory

1GB DDR2 533MHz with support to 2GB

LCD

10-inch LCD panel

Storage

120GB or 160GB HDD

8GB/16GB SSD
Source: Company, compiled by Digitimes, December 2008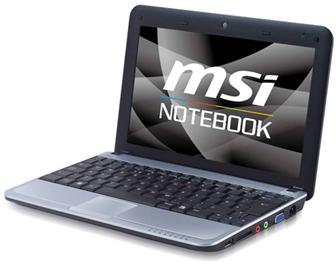 MSI U115 Hybrid netbook
Photo: Company