VIA announces new barebone storage server
Press release, December 11; Joseph Tsai, DIGITIMES
VIA Technologies has announced the VIA ARTiGO A2000 barebone storage mini-server which packs terabytes of storage capacity within a stylish, compact, low power and low noise system, according to the company.
The VIA ARTiGO A2000 consumes less power and space than a regular desktop, yet provides ample storage for large home media libraries of music, photos and HD video, VIA said. It can also serve as a headless NAS box or media storage and streaming device in home server applications.
Measuring 13.5×12×26cm, the VIA ARTiGO A2000 is powered by a 1.5GHz VIA C7-D processor and supports up to 2GB of DDR2 667/533MHz memory. Two SATA bays with integrated power ports are mounted within the case, and a type I Compact Flash socket is located beneath the motherboard.
Connectivity includes a Gigabit Ethernet port, and support for a wireless 802.11 b/g module, while two USB 2.0 ports at the back are supplemented by one port at the front for accessibility.
Multimedia is provided through the VIA VX800 system media processor, featuring DirectX 9.0 3D graphics support through the VIA Chrome9 integrated graphics, hardware video decoding acceleration of multiple video formats, and VIA Vinyl HD audio.
VIA ARTiGO A2000 barebone storage mini-server specifications

Item

Detail

CPU

1.5GHz VIA C7-D processor

Chipset

VIA VX800 Unified Digital Media IGP chipset

Memory Support

One DDR2 SO-DIMM socket (up to 2GB)

Hard Disk Support

Two 3.5-inch SATA 3Gb/s

Bootable SSD

One CompactFlash socket (supports DMA mode)

Operating System Support

Windows XP/Vista, Linux

USB Ports

Three USB 2.0 ports (1 on the front panel)
Source: Company, compiled by Digitimes, December 2008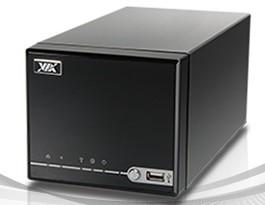 VIA ARTiGO A2000 barebone storage mini-server
Photo: Company