LG Display announced that the company is showcasing a wide range of technology and products at the ongoing FPD (Flat Panel Display) International 2008 in Japan from October 29-31, centering the themes of "environment friendly", "distinctive design" and "AMOLED".
The company's product line-up includes a "non-reflective LCD" for the information display market, an ultra-slim 47-inch TV panel with a thickness of 11.8mm, and an oval shaped 6-inch product and a round 1.4-inch product that break the preconceived notion that panels have to be rectangular. Also on exhibit are an 11.5-inch flexible LCD and the 2x2 3D multi-vision LCD, which is composed of four 42-inch panels and allows viewers to enjoy 3D images without wearing special glasses.
LG Display is displaying several environment friendly products which consume less energy and require fewer parts. The products include a 42-inch panel that has a reflection ratio below 0.5%, and a 15-inch double-sided reflective LCD that displays images on both sides using natural light without the need for a backlight, and a 42-inch LCD featuring LED backlight along with local dimming and optimal power control technologies to lowers power consumption by 40%.
Other exhibitions include 4-inch flexible AMOLEDs with QVGA resolution.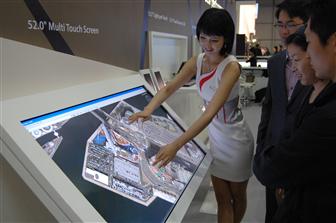 LG Display's 52-inch multi touch screen
Photo: Company