Leading DRAM maker Nanya Technology is debuting its retail brand Elixir DDR3 1066 SODIMM to support the Intel Centrino 2 Montevina mobile platform. Elixir DDR3 1066 is now available in 1GB and higher density 2GB to fulfill the notebook enthusiasts' needs for high performance and low power consumption.
Taiwan's Institute for Information Industry forecasts global notebook PC shipments to reach 119 million units in 2008, increasing by 23.1% as compared to last year. The notebook shipments are expected to go up to 477 million from 2009 through 2011 with an annual growth rate between 11% and 16.8%. Notebook PCs will become the mainstream in worldwide PC market in a few years. Complying with the JEDEC standard, Elixir DDR3 1066 1GB/2GB SODIMM for notebook PCs utilize WBGA packaging technology and a 8-bit pre-fetch design that supports module bandwidths up to 10.6GB/s. The DIMM is intended for use in applications running at 533MHz/667MHz clock speeds, achieving high-speed data transfer rates of 1066Mbps/1333Mbps.
Elixir DDR3 1GB/2GB SODIMM consists of Nanya 70nm DDR3 1Gbit components which have been jointly developed by Nanya and its partner Qimonda AG. Each DDR3 Module powered a 1.5V provides 20% lower power consumption compared to current 1.8V DDR2 module, benefiting the enthusiasts with the highest performance.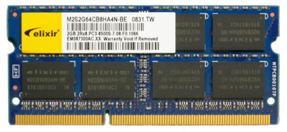 Nanya Technology Elixir DDR3 1066 SODIMM
Photo: Company