At the ongoing Intel Developer Forum (IDF) (August 19-21) in San Francisco, Hynix Semiconductor announced that it is using MetaRAM's new DDR3 technology in its next generation R-DIMMs, including the world's first 16GB 2-rank DIMM (HMT32GR7AER4C-GD. The new 16GB and 8GB (HMT31GR7AER4C-GC) 2-rank DIMMs can triple DDR3 memory capacity in servers and workstations, enabling the world's highest memory capacity per channel without degrading performance, the company noted.
Intel will demonstrate the world's first 16GB 2-rank DIMM from Hynix, using the MetaRAM DDR3 chipset at IDF. Intel will also demonstrate a server with 160GB using Hynix DDR3 R-DIMMs and Meta SDRAM technology, Hynix said.
DDR3 MetaRAM is similar to the previous generations of DDR2 technology that enable significantly more memory in a server. An added benefit of the DDR3 MetaRAM technology is that enables larger memory capacity without negatively impacting the operating frequency of the DDR3 memory channel. It is the only technology that has been demonstrated to run 24GB of DDR3 SDRAM in a channel at 1066 million transactions per-second (MT/s). Using 3 of 16GB DIMM, users can achieve 48GB per channel running at 1066 MT/s, while other competing solutions max out at 16GB per channel at 1066MT/s.
Along with its earlier DDR2 technology, the DDR3 MetaRAM technology enables Hynix to introduce cost-effective, high capacity R-DIMMs by using mainstream 1Gb DRAMs.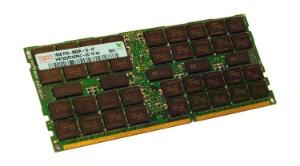 Hynix 16GB DDR3 R DIMM using MetaRAM technology
Photo: Business Wire