Elpida Memory announced that it had developed a 1Gb DDR3 SDRAM that delivers a speed up to 2.5Gbps. The new copper interconnect-based DDR3 SDRAM is targeted for servers and high-end PCs. Sample shipments are scheduled to begin by the end of August.
The new DDR3 SDRAM uses a copper interconnect process that is superior to aluminum in terms of transmission characteristics, Elpida highlighted. By taking maximum advantage of these characteristics during the design phase new circuitry can be developed that enables even faster products that continue to need little power.
The new DDR3 SDRAM supports data rate ranging from 667Mbps to 2.5Gbps. It can also meet DDR3 standard 1.5V as well as ultra-low 1.35V and 1.2V voltage requirements. In addition, it achieves data rates of 2.5Gbps at 1.5V and 1.8Gbps at 1.2V, considerably faster than the current industry standard of 1.6Gbps at 1.5V.
As a result, the new product's ability to operate at an ultra low voltage of 1.2V can contribute to lower power consumption, which is especially important in the case of large-memory capacity extended-use server applications. Also, for high-end PCs geared to high-speed operations an operational speed of 2.5Gbps enables a significant system performance upgrade.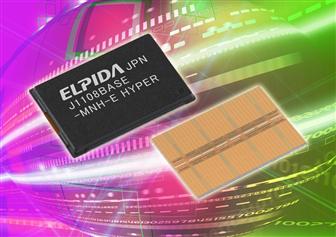 Photo: Company, August 2008.