In order to meet the demands of providing high performance and flexible business options, Asustek Computer has launched its latest TS500-E5 tower server, a solution for businesses that require mission critical applications.
The TS500-E5 can support up to four hard drives by default, but the company has added an optional hard disk expansion kit to allow the server to support up to eight.
The TS500-E5 adopts two 45nm processors to deliver high performance and power manageability and up to 24GB DDR2 memory, Asustek said, and with the optional SAS upgrade kit, PIKE, the TS500-E5 is able to support a range of RAID functions.
A TS500-E5/RX8 model also supports dual 650W power supplies for redundant functionality.
Asustek TS500-E5 tower server specifications

Item

Detail

Processor / System Bus

2 × Socket LGA771
Quad-core Intel Xeon 5400 Series (45nm)
Dual-core Intel Xeon 5200 Series (45nm)
Quad-core Intel Xeon 5300 Series
Dual-core Intel Xeon 5100 Series

Core Logic

Intel 5100 Memory Controller Hub (MCH)
Intel ICH9R

Memory

6 slot DDR2 667 memory support up to 24GB

Graphics

XGI Z9S VGA controller / 32MB DDR2 SDRAM

Dimensions

450mm (H) × 212mm (W) × 550mm (D)

Power Supply

670W single power supply
Source: Company, compiled by Digitimes, July 2008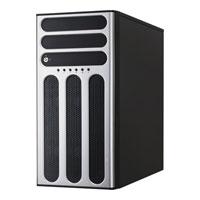 Asustek TS500-E5 tower server
Photo: Company