Albatron Technology has unveiled three new Nvidia GeForce 8-series graphics cards that use the practically outdated PCI slot. While the appeal of the PCI8600GT-256X, the PCI8500GT-256X and the PCI8400GS-256 may not be obvious for anyone who has a PCI Express or even AGP slot on their motherboard, there are still quite a few systems (particularly small form factor or HTPC ones) where expansion options are limited, creating an niche market for these cards.
The graphics cards are all low profile designs allowing them to fit in smaller cases such as HTPC design that try to match the form factor of tradition consumer electronics devices.
Of the three versions, the PCI8600GT and PCI8500GT models adopt faster DDR3 memory and also feature HDMI connectors for higher quality output, highlighted the Albatron.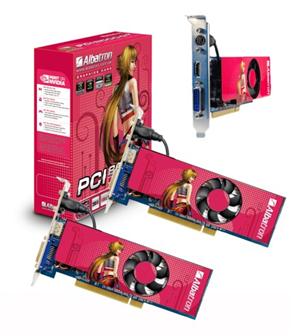 Albatron PCI port-based GeForce 8-series graphics card
Photo: Company